With Microsoft Reaching All-Time Highs, Does a Buying Opportunity Still Exist? (12-Year Chart)
Zak's — Microsoft MSFT shares continued their impressive run on Monday morning, moving more than 1.5% higher and hitting a new 52-week high in the process. The software giant will now try to break into a new range, which could lead some investors to wonder whether now is a great—or risky—time to buy this stock.
After closing at $71.76 per share on Friday, MSFT gained as much as 1.6% in early trading Monday, hitting an intraday peak of $72.89 per share—a new 52-week high.
MSFT 12-Year Chart: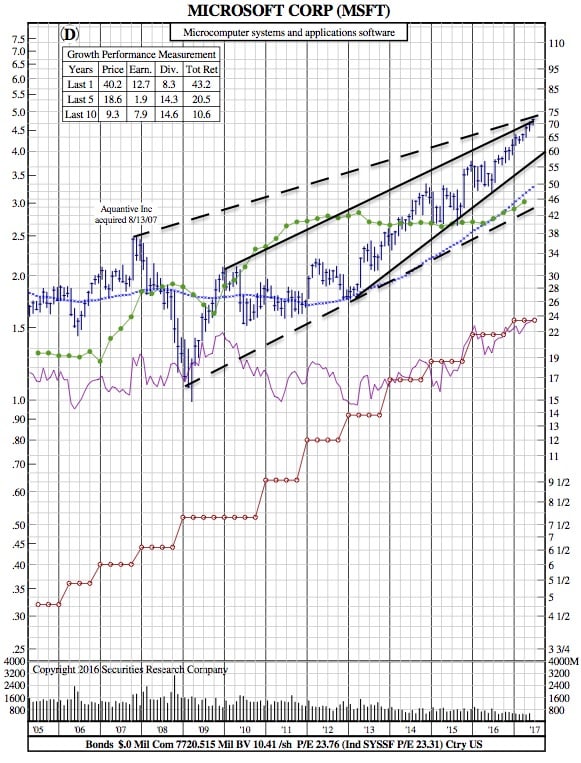 Microsoft has been one of several tech giants to capture the attention of investors throughout the year. The software pioneer has gained a solid 13% year-to-date, outpacing the S&P 500—but notably behind its on-fire rivals like Apple AAPL and Amazon AMZN.
Nevertheless, the stock has ignited over the past several trading days, gaining more than 4% since this time last week. Shares have actually been steadily climbing ever since Microsoft's latest earnings report in late April, as the company once again reported better-than-expected EPS results.
The catalyst for Microsoft's recent success—and its primary potential growth driver in the near future—is its rapid cloud growth. In the latest quarter, Microsoft's Intelligence Cloud revenue increased 11% to $6.8 billion. Breaking that down, the company's "Server Products and Cloud Services" revenue increased 15%, driven by Azure revenue growth of 93%. Interestingly enough, that growth rate was actually down from the 120% growth in Azure that Microsoft posted in the prior-year quarter.
As we look towards Microsoft's future, the Azure division will continue to be a major factor for its stock performance. The company has certainly doubled down on Azure, and recent rumors indicate that the company is eyeing smaller cloud companies to buyout—a strategy that is clearly an effort to chip away at Amazon Web Services' lead in the public cloud space.
It's also worth noting that Microsoft's recent purchase of LinkedIn provides the company with a plethora of new enterprise data, which could be used to expand into the CRM space and compete with the likes of Salesforce (CRM).
Still, there's plenty of growth opportunity here, especially considering how long Microsoft has been around. Our current consensus estimates would represent sales growth of nearly 18% in both the current and next quarter.
As MSFT looks to break into a new range, investors should focus on whether sentiment surrounding the industry remains positive, as well as any M&A rumors or other noteworthy stock movers. If the company can post another earnings beat on the back of strong cloud growth when it reports again, that should definitely send shares higher.