With June Coming to an End, Here are the Dow's Top Performers YTD (12-Year Charts)
Investor's Business Daily — Hopes of a better economy helped big banks like JPMorgan (JPM) and Goldman Sachs (GS) close out 2016 at the top of the Dow Jones industrial average. Six months later, stocks like Apple (AAPL), Boeing (BA) and McDonald's (MCD) have topped blue-chip on a mix of strong earnings reports and the companies' adaptation to an ever-digitizing world.
Meanwhile, here are the Dow's five biggest dogs of 2017.
Boeing
The biggest gainer is aerospace giant Boeing, up 27% so far this year. Solid earnings reports have lifted the aerospace company's stock, and orders at last week's Paris Air Show came in ahead of those of rival Airbus (EADSY).
Shares fell 1.1% to 197.46 on the stock market today. The stock has pulled back slightly from last week's record high but is still slightly extended from a May breakout.
At the end of last year, President Trump's complaints about the cost of Boeing's Air Force One program may have signaled a new age of strong-arming out of the White House. But the president later softened his stance, concluding an event at a South Carolina Boeing facility by saying: "God bless Boeing."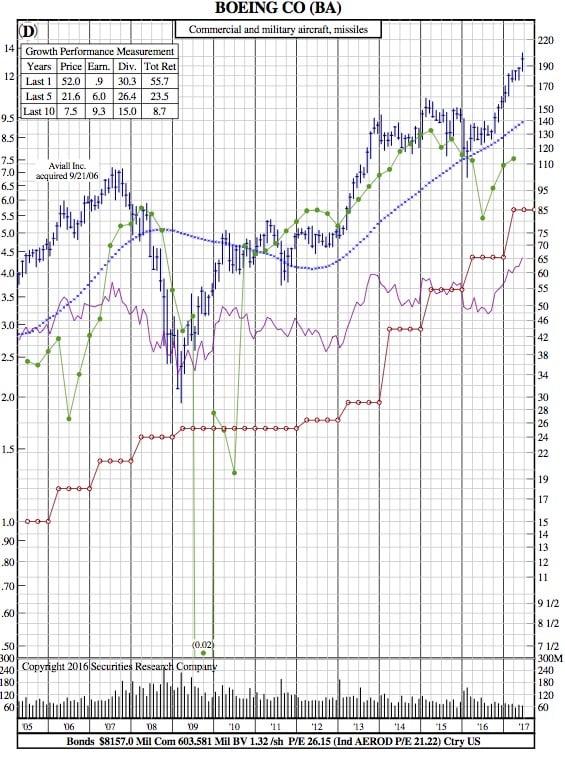 McDonald's
Second in line is McDonald's, whose stock price has accelerated 26% on a combination of strong earnings and strong prospects. The burger chain is expanding its delivery services and mobile ordering, and rolling out a new, more digitized restaurant format to its locations.
"We believe McDonald's rapid implementation of mobile order and pay and in-restaurant kiosks will help drive meaningful sustained sales lifts in addition to the reduced front of house labor," BTIG analyst Peter Saleh said in a research note Thursday, in which the firm raised its price target on the stock to 175 from 156.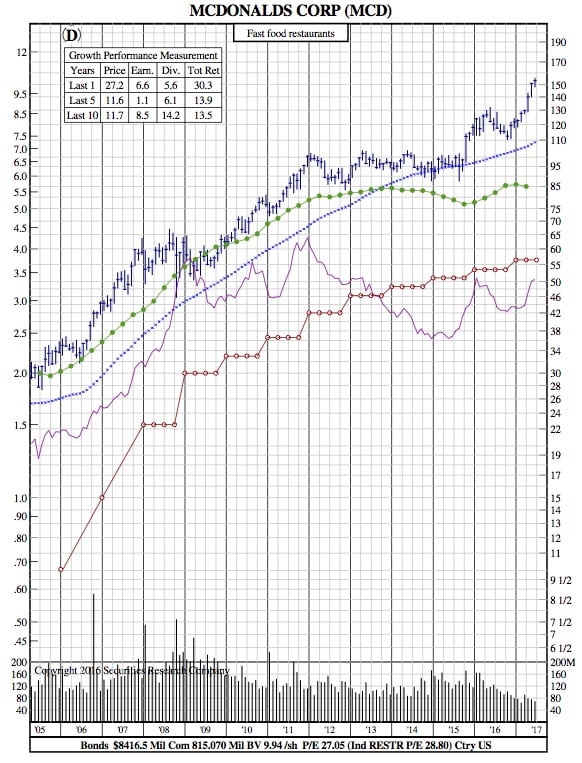 Apple
Following up McDonald's is Apple. Shares of the iPhone maker are up 24% since the end of last year, boosted by the excitement surrounding the iPhone 8 and hikes in dividends and buybacks in its last quarterly report.
Apple had been up more than 30%, leading the Dow, until selling off in June.
Shares of Apple, which fell 1.5% Thursday — the 10th anniversary of the first iPhone's release. The stock is currently in a flat base but has a lot of work to do.
Like other tech stocks, shares of Apple sank on June 9 on concerns that the long run-up in the sector had gone a little too far. But unlike many other big techs, Apple fell below its 50-day moving average the following day and has been stuck below that level.
More recently, Pacific Crest Securities said that Apple's services business — which includes the App Store, iTunes and Apple Music — could slow down.
Other analysts have worried that the company was too slow to put out a smart-home assistant that could compete with Amazon (AMZN) and Alphabet (GOOGL). But Apple could up the stakes in the battle for a more sophisticated device with smart glasses.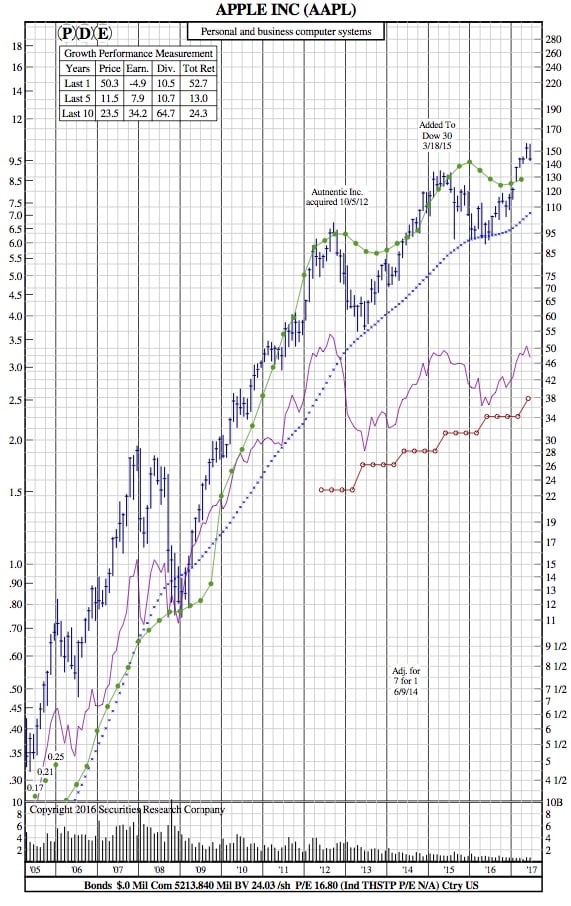 Visa
Visa, up 21% since the end of last year, is the Dow's fourth best performer. Zacks analysts say that acquisitions, in particular, that of Visa Europe, stand to help Visa expand, as do its prospects internationally and in electronic and mobile payments.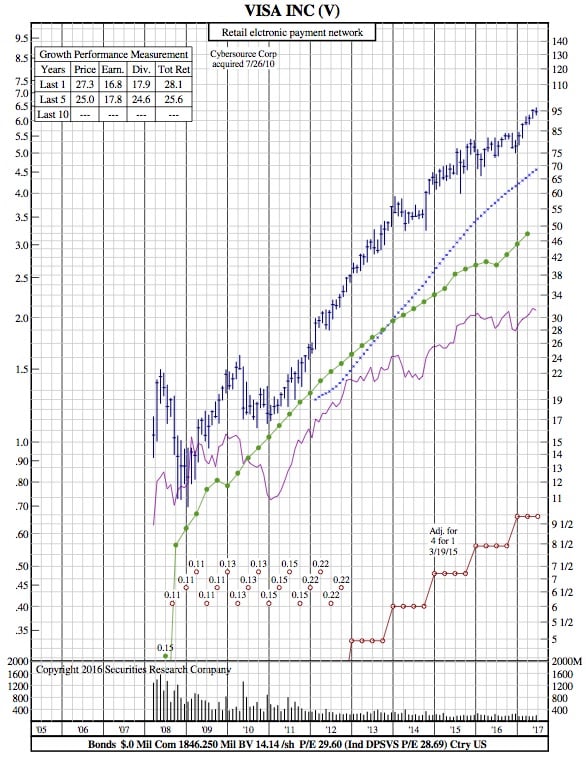 3M
3M, the diversified manufacturer best known to consumers for products like Post-it notes and Scotch tape, rounds out the Dow' s top 5. Shares have gained more than 16% in 2017.
"Since 2012, the company has significantly pruned its businesses, thereby improving customer relevance, productivity and speed through a leaner operating structure," Zacks analysts said in a research note. "3M has also maintained a steady investment in R&D to develop innovative products."