Will 2017 be the year Apple hits a $1T Market Cap? (APPL 25-Year Chart)
On January 31, Apple reported quarterly earnings and revenue that easily beat analyst's expectations:
EPS:$3.36 vs. $3.21 expected by a Thomson Reuters consensus estimate
Revenue: $78.4 billion vs. $77.25 billion expected
iPhone shipments: 78.29 million vs. 77.42 million expected by StreetAccount estimates
Services revenue: $7.17 billion vs. $6.91 billion expected by StreetAccount
Fiscal Q2 guidance: Revenue of $51.5 billion to $53.5 billion, vs. $53.79 billion expected by Reuters
As of February 6, Apple's market capitalization stood at $684.73B ($130.29 x 5.26B shares outstanding).
In 2016, a few analysts made the claim that Alphabet, Amazon, or Microsoft might beat Apple to be the first trillion-dollar company. Asymco's Horace Dediu, however, recently came out with a new report predicting that Apple will cross the $1 trillion mark this year in terms of revenue generated by iOS, pushing it closer to a $1 trillion market cap.
In its first 10 years, the iPhone will have sold at least 1.2 billion units, making it the most successful product of all time. The iPhone also enabled the iOS empire which includes the iPod touch, the iPad, the Apple Watch and Apple TV whose combined total unit sales will reach 1.75 billion units over 10 years. This total is likely to top 2 billion units by the end of 2018. — A.H. Dediu
Dediu expressed that, if current predictions hold true, revenue from iOS product sales will hit $980 billion around the middle of 2017. Hardware, however, isn't the only revenue stream to hit Apple's bank account from iOS. In addition to hardware sales, Apple has also brought in more than $100 billion in terms of sales from its services sector, including things like apps, subscriptions, and media.  Thus, Apple will likely cross the $1 trillion mark this year.
It's important to note that this alone will likely not be enough to cross the coveted $1T market cap threshold. Investors have predicted that Apple needs one more "home run" product in order for that to happen – but with the iPhone 7 breaking previous sales records and the pending release of the 10th anniversary iPhone 8 coming out this year, Apple doesn't necessarily need a home run to win the game.
So, does Apple have the momentum, pipeline, and sentiment to carry it to a $1T market cap in 2017? Let's look at the 25-Year & 21-Month Charts.
$AAPL 25-Year Chart:
$AAPL 21-Month Chart: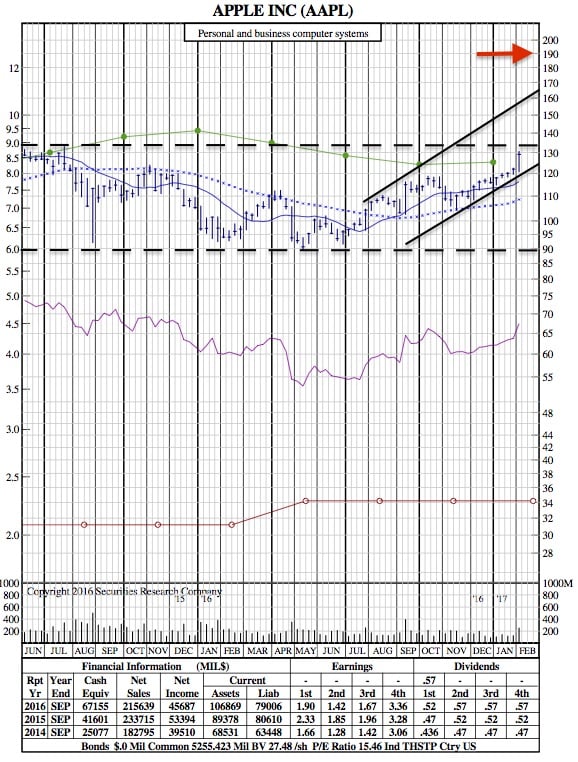 If Apple is going to make a proper push for $1T, the company is certainly trying to take advantage of an early start. With the upcoming iPhone 8 set to come out in the fall (which will arguably be the most radical design change since the iPhone 4), an iOS market ready to hit its own $1T mark, and enough cash on hand to make virtually any acquisition imaginable, Apple may very well rekindle the magic it once held and make the push for $190/share.