S&P 500 35-Year Chart after Goldman Sachs Downgrades Stocks
Yahoo Finance — Goldman Sachs' portfolio strategy team has cut its outlook on the stock market for the next quarter.
In a note to clients published late Tuesday, Goldman's team led by Christian Mueller-Glissmann took its view on stocks to "Neutral" from "Overweight" for the next three months.
The team remains "Overweight" stocks over the next year and sees a 5% total return.
"We think equity drawdown risk in the coming months will depend on the interplay of the cycle and rates," Goldman writes.
"With growth momentum nearing its peak and rates increasing further with a hawkish Fed, the asymmetry for equities is turning increasingly negative. This also means more vulnerability to potential shocks, e.g., from European politics, US policy, commodities, and China. The increase in risk appetite in recent months and strong positioning by systematic investors such as CTAs and risk parity funds increases 'vol of vol' risk, i.e., the potential for a sharp correction."
In its note, Mueller-Glissmann's team highlights something we've hammered on and again in recent months: high stock values are not on their own a sufficient criterion for stocks to fall.
But with valuations elevated and the external risks mentioned above cropping up for markets, the risk of a downside surprise in markets, in Goldman's view, outweighs the potential for an upside surprise.
This call also echoes that of Goldman's U.S. equity strategy team, led by David Kostin, which said in a note to clients last week that, "Our tactical view remains that S&P 500 has peaked at 2400 and will fade to 2300 by year-end. Strategically, the current bull market will persevere but with a shallow trajectory."
Kostin's year-end 2019 S&P 500 target is 2,500, about 6% higher from current levels.
SPX 35-Year Chart: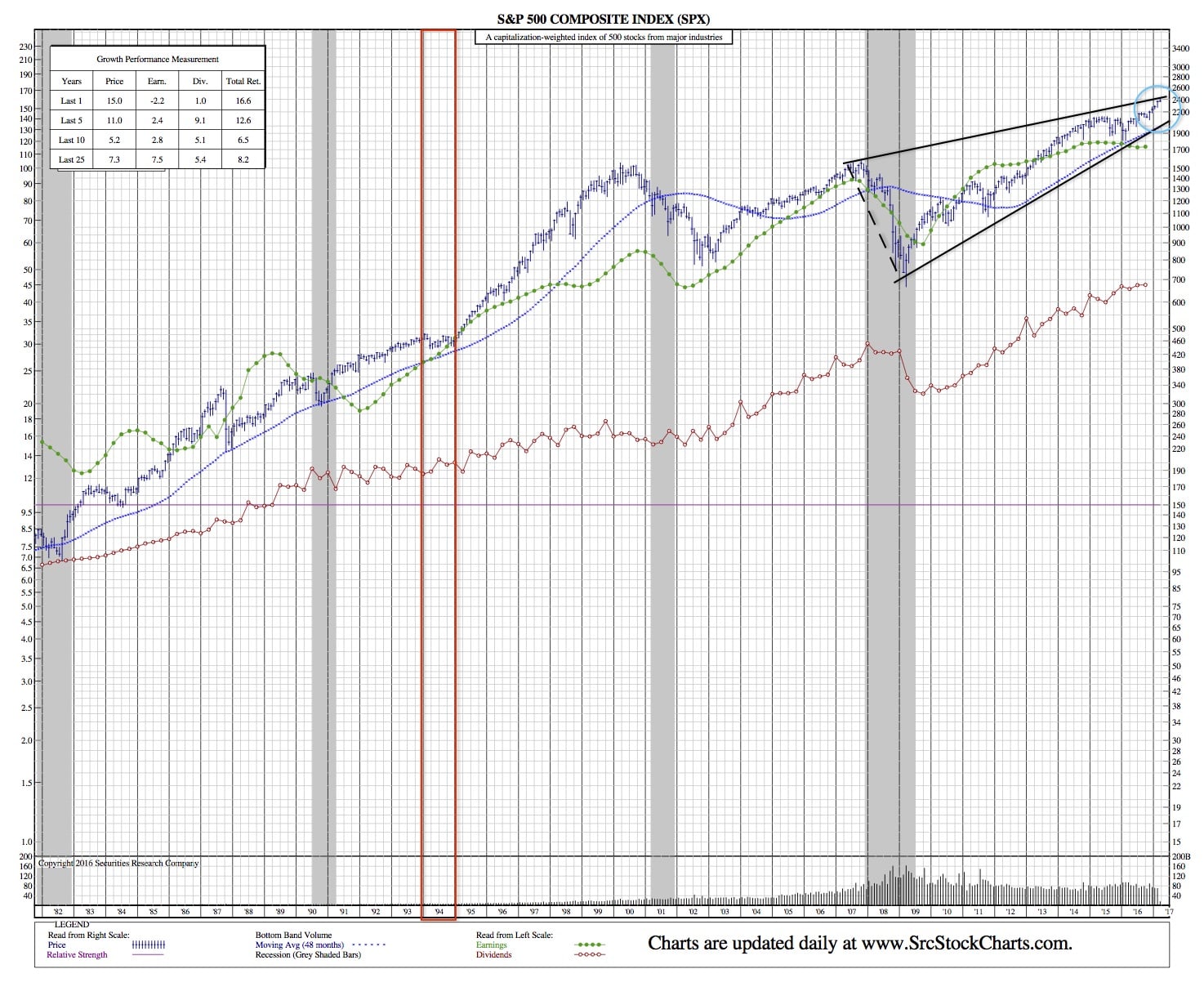 Sell-offs are normal
Now, a decline in stocks wouldn't, on its own, be a negative for the economy.
Certainly, there is a large confidence element to the economy, and the U.S. right now is in the unique position of having an administration that is actively endorsing the idea that high stock prices reflect positively on the economy.
But as we've highlighted recently, most years see a drawdown in the stock market in excess of 10% from peak to trough, even in years when stocks finish higher (as measured from Jan. 1 to Dec 31).
In most years, the S&P 500 sells off in excess of 10% intra-year.
The long arc of market history has indicated that stocks usually go up, but also shows that most years see periods when stocks go down.
And right now, Goldman is bracing for one of those moments.