Adobe Posts Strong Earnings Report, Driven by Cloud Demand (12-Year Chart)
Reuters — Adobe Systems Inc reported better-than-expected quarterly revenue and profit, as the demand for its Creative Cloud package of software tools, which includes Photoshop, continued to rise.
Shares of the company were up 3.6 percent at $126.77 in extended trading on Thursday.
Adobe, has benefited from its shift to a more predictable revenue stream by selling its software through web-based subscriptions, as opposed to revenue earned through the sale of packaged-licensed software.
This shift has helped the company post double-digit revenue growth in the past seven quarters.
With the change in Adobe's business model, it was expected that not only would its profit margins improve over time but especially their cash flow as well, Griffin Securities analyst Jay Vleeschhouwer said.
The California-based company's cash flow from operations rose nearly 47 percent to $730.37 million.
Revenue from the company's digital media business, which houses Creative Cloud, came in at $1.14 billion, beating estimates of $1.11 billion, according to market research firm FactSet StreetAccount.
Creative Cloud, which is the company's largest business by revenue, includes popular software such as, Photoshop, Illustrator and web video building application Flash.
The company's net income rose to $398.45 million, or 80 cents per share, in the first quarter March 3, from $254.31 million, or 50 cents per share, a year earlier.
ADBE 12-Year Chart: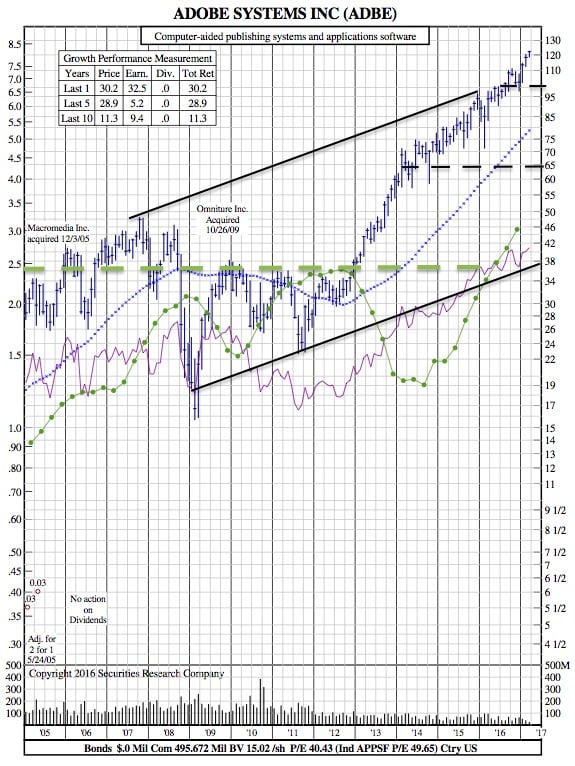 Total revenue increased, for the twelfth straight quarter, to $1.68 billion from $1.38 billion. Analysts on average were expecting revenue of $1.65 billion, according to Thomson Reuters I/B/E/S.
Excluding items, Adobe earned 94 cents per share, beating estimates of 87 cents per share.
Adobe also forecast an adjusted profit of about 94 cents per share on revenue of about $1.73 billion for the second quarter.
Analysts were expecting a profit of 91 cents per share and revenue of $1.72 billion.