What to make of Valeant Pharmaceuticals after Bill Ackman Sells his Stake (12-Year Chart)
Bloomberg — Valeant Pharmaceuticals ($VRX) International Inc. stock slumped to the lowest since 2009 after Bill Ackman, once its biggest champion, exited the drugmaker at a loss.
After waging a costly and outspoken public defense of the controversial company, Ackman said late Monday that he sold his entire stake and would leave the board.
The shares, already down more than 90 percent since their August 2015 peak, dropped 11 percent to $10.82 at 12:07 p.m. in New York. The bonds also declined, to their lowest since December.
VRX 12-Year Chart: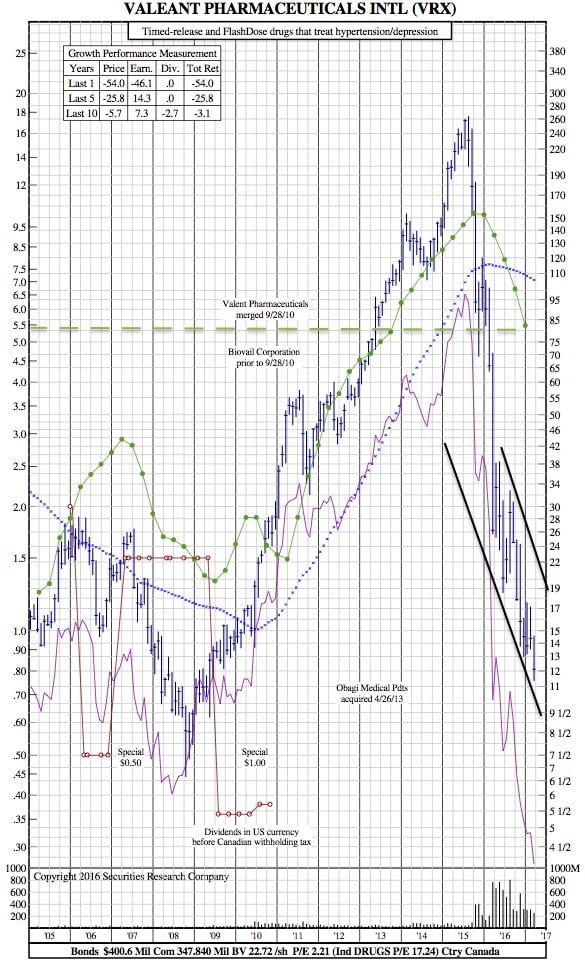 "Now with its largest shareholder and one of its most vocal supporters selling its stake near the low for the past 10 years, we see this as a vote of no confidence for the stock and that things are continuing to go from bad to worse for Valeant," Wells Fargo & Co. analyst David Maris, who rates the stock the equivalent of sell, said in a note to clients.
Billionaire Ackman's big, concentrated bets and brash personality have made him one of the most polarizing names in investing. He decided to give up on Valeant, a favorite among hedge-fund types before probes into its business practices, accounting, and drug pricing caused a collapse in the shares, after a lengthy campaign to turn around the company and salvage his investment.
Ackman said that he "should have sold" earlier and that it was a mistake to stick with the the stock as long as he had, CNBC reported Monday, citing a telephone interview with the investor.
Three-Year Saga
The sale ends a nearly three-year saga that first saw Ackman team up with Valeant in a hostile bid for a rival, before later making a direct investment. Over the same period, regulators intensified scrutiny of the drugmaker, its management, and the board were overhauled, and its value was decimated.
While precise figures are hard to come by, public filings suggest that Ackman's Pershing Square Capital Management may have lost $2.8 billion just on the Valeant shares it owned at the end of 2016, with overall losses likely to be much higher.
Valeant's most actively traded debt, $3.25 billion of 6.125 coupon bonds due in 2025 declined 0.75 cents to 73.75 cents on the dollar at 10:58 a.m. in New York. That's their lowest value since December, according to Trace, the bond-price reporting system of the Financial Industry Regulatory Authority.
"The hits just keep comin' for Valeant," Gimme Credit LLC bond analyst Vicki Bryan, who advises selling the bonds, said in a note to clients.
Ackman's exit follows last week's surprise decision to restructure its bank debt, and it now looks even more unlikely that Valeant will be closing any sizable asset sales in the near future, Bryan wrote.
Fund Losses
Pershing Square representative Steve Fraidin will also leave the board at the next annual meeting. The investment, which represents about 1.5 percent to 3 percent of Pershing Square's funds, required "a disproportionately large amount of time and resources," according to a statement Monday.
"We appreciate the support and guidance that Bill and Steve provided during a challenging time," Joe Papa, Valeant's chief executive officer, said in an emailed statement. "Serving on the board of a company undergoing a transformation requires a significant commitment and we accept their decision not to stand for re-election."
As of mid-December, Pershing Square held 18.1 million Valeant common shares along with call options to purchase another 9.1 million shares, according to regulatory filings. Pershing Square paid an average of $166.11 a share for the Valeant stock that it purchased outright, not counting proceeds received for subsequent stock sales or options transactions.
Wall Street Darling
Jefferies Group LLC offered Pershing Square's 27.23 million Valeant shares Monday, pricing them at $11.10 apiece, at the bottom of the marketed range of $11.10 to $11.40, according to a person familiar with the process who asked not to be identified discussing private information. It's not clear how many of the shares on offer were allotted.
Based on the pricing, Ackman's hedge funds would have lost about $2.8 billion on the sale of the 18.1 million shares that they held outright.
Though Pershing Square only disclosed its investment in Valeant in March 2015, the relationship between the two goes back a year earlier. In 2014, Ackman's fund had teamed up with the drugmaker in a hostile bid for Allergan Plc, which was thwarted when Allergan agreed to be acquired by Actavis Plc. Valeant and Ackman are now facing a shareholder lawsuit over alleged insider trading involving the failed deal for Allergan.
Valeant, once a darling of Wall Street, has seen its shares plummet since August 2015 amid a spate of investigations involving its pricing strategy and the use of a now-defunct mail-order pharmacy to help sell drugs. Until now, Ackman has stood by Valeant, at times being its most vocal advocate. In 2015, he held an hours-long conference call to defend his investment and even predicted the stock would reach $448 by 2019.
Yet Valeant's management, which underwent a complete overhaul as the scandals unfolded, has been struggling to tame its debt and rebuild investor confidence.
Asset Sales
While the company has started looking to asset sales as a way to relieve its debt burden, analysts have expressed doubt that will be enough. Valeant's Papa said last year the company could sell about $8 billion in non-core assets.
The new management team refinanced the company's debt burden last week, asking lenders for more breathing room and seeking new loans and bonds that would extend the maturities on part of its $30 billion debt load.
Ackman's Valeant exit follows earlier high-profile losses in retailers J.C. Penney Co. and Target Corp. He has also amassed losses in an ongoing short battle over nutrition products group Herbalife Ltd.
Pershing Square posted its worst annual performance in 2015, with a net loss of 20.5 percent — largely blamed on Valeant — after delivering a 2014 net return of 40.4 percent. Last year Pershing Square Holdings Ltd., the publicly traded security of Ackman's activist hedge fund, was down 13.5 percent, and as of March 7 had lost 1.5 percent this year, according to the latest weekly data posted online. The public fund began trading in Amsterdam in October 2014 with a similar portfolio to the hedge fund.