Microsoft Q4 ER Beat Driven by Increased Cloud Demand (12-Year Chart)
Bloomberg — Microsoft Corp.'s turnaround plan got back on track in the recent quarter, buoyed by rising sales of Internet-based software and services.
Profit in the fiscal fourth quarter exceeded analysts' estimates and adjusted sales rose 9 percent as demand almost doubled for Azure cloud services, which let companies store and run their applications in Microsoft data centers. A tax-rate benefit added 23 cents a share to earnings, Microsoft said.
Shareholders are watching closely to gauge Satya Nadella's progress toward reshaping Microsoft as a cloud-computing powerhouse with new services related to Azure and the Office 365 online productivity apps — a shift that led to a massive sales-force restructuring earlier this month. While the stock is up 33 percent in the past year on optimism the changes are taking root at the 42-year-old company, Nadella still needs to more consistently post significant sales growth, which would have been smaller without a boost from the acquisition of LinkedIn late last year.
"The underlying trends — the shift to the cloud and also what it means for the legacy, on-premise stuff — are likely to be in motion for a very long period of time," said Sid Parakh, a fund manager at Becker Capital Management, which owns Microsoft stock. "As long as the growth rate for all the cloud-oriented stuff comes in in-line or better, that should still be OK."
Microsoft shares rose as much as 2.7 percent in extended trading following the report. Earlier, they had gained half a percent to a record $74.22 at the close in New York. The stock has risen 19 percent this year, compared with an 11 percent gain in the Standard & Poor's 500 Index.
$MSFT 12-Year Chart: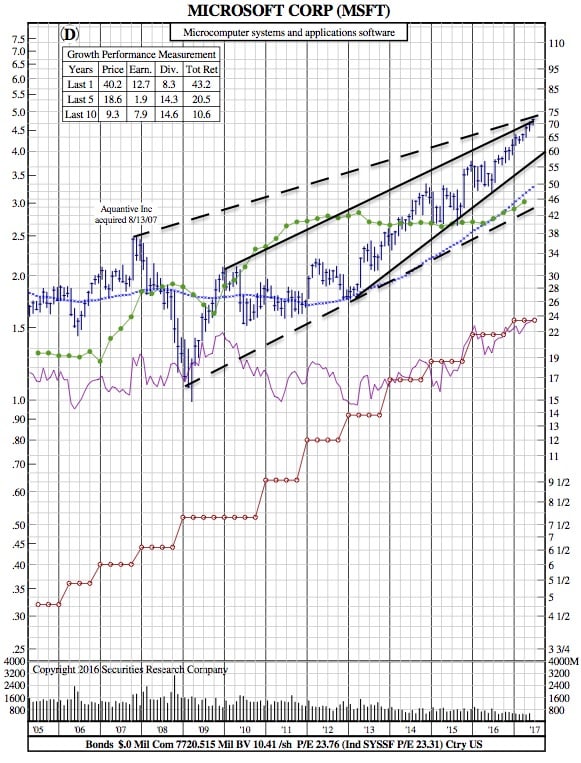 Profit excluding certain items in the quarter ended June 30 was 98 cents a share, Microsoft said Thursday in a statement. Analysts surveyed by Bloomberg on average had projected 71 cents — a prediction that didn't include the tax benefit. Revenue climbed to $24.7 billion, compared with estimates for $24.3 billion.
The company, which cut thousands of sales and marketing jobs earlier this month to concentrate on selling cloud and newer products like artificial-intelligence and data-analysis tools, said it recorded costs of $306 million for the restructuring in the fourth quarter.
Azure sales rose 97 percent in the period, while commercial Office 365 — cloud-based versions of Word, Excel and other productivity software — increased 43 percent. Microsoft's Azure cloud-computing service still lags behind market leader Amazon.com Inc., but more customers are starting to go with Microsoft, according to research from Credit Suisse Group AG. Both corporate and consumer users are switching from older Office programs to the cloud subscriptions, providing more stable and recurring revenue.
Surface hardware sales slipped 2 percent. In the previous quarter, Microsoft's Surface revenue fell short because customers weren't buying aging models of the Surface Pro. Since then, Microsoft unveiled an update to that product — its best-selling Surface — and released a totally new category, a Surface laptop computer with a clamshell design. Both devices went on sale June 15. Overall revenue in the company's More Personal Computing division, which also includes Windows, was $8.82 billion, above the $8.55 billion average estimate of three analysts polled by Bloomberg.
In the Intelligent Cloud unit, made up of Azure and server software deployed in customers' own data centers, sales increased 11 percent to $7.43 billion, compared with the $7.31 billion average analyst projection. Productivity revenue, mainly Office software, climbed 21 percent to $8.45 billion. Analysts had estimated $8.32 billion.
As more companies shift data and computing tasks to the cloud, Microsoft is trying to narrow Amazon Web Services' lead and fend off Google's challenge. During the quarter, the Redmond, Washington-based software maker unveiled new tools to switch its database customers to the cloud and steal some from rivals like Oracle Corp. Microsoft is also trying to shift more of its Office customers to online subscription versions while adding cloud business from professional network LinkedIn, acquired last year for $26.2 billion.
In the Credit Suisse survey of customers, Microsoft's Azure saw the greatest boost among cloud vendors, with 40 percent of respondents saying Azure was their preferred product, up from 21 percent six months earlier. Investors and analysts are paying close attention to the cloud race as they try to project which of the older, established technology companies will profit most and survive in the new world of cloud computing. Oracle and International Business Machines Corp. have been navigating their own transitions to Internet-based computing from legacy hardware and software.