FedEx 25-Year Chart after Deutsche Bank Forecasts 20% Upside
Benzinga — Deutsche Bank forecast 20 percent potential upside in FedEx Corporation (NYSE: FDX) shares as it started coverage of the stock with a Buy rating and $210 price target. Additionally, despite market chatter, the firm sees no threat from Amazon.com, Inc.(NASDAQ: AMZN) in the near and medium term.
"We see at least 20 percent additional upside potential in FDX shares as the company realizes the last remaining benefits of its profit improvement plan, synergies from its recent TNT Express acquisition take hold, and Ground investments begin to pay off," analyst Amit Mehrotra wrote in a note.
In addition, the analyst conservatively estimates 20 percent EBITDA improvement by 2018 versus FY16, which he believes would bring $35, or 20 percent, improvement in share price of FedEx. Apart from low-single organic growth and double-digit earnings growth, Mehrotra assumes 12 percent average incremental margins versus 30 percent achieved over the last several years.
The analyst projects $300 million of incremental cost savings in FY'17 and $750 million potential synergies from TNT by end of FY2020. The analyst also conservatively expects $800 million of annual share repurchase versus $2 billion average over last two years.
Meanwhile, Mehrotra noted that investors need not be concerned over Amazon's increasing investments in trailers, aircraft and small parcel delivery companies — the online retail giant accounts for only 3 percent of FedEx's revenue.
"While these remain watch items, we do not believe Amazon represents significant risk to FDX over the near and mid-term," Mehrotra highlighted.
Further, Amazon needs significant investment and experience to match the scale of FedEx as well as United Parcel Service, Inc. (NYSE: UPS), providing significant barriers to entry.
Shares of FedEx closed Tuesday's trading at $171.53. Based on Tuesday's close, the $210 target implies a potential return of 22 percent.
25-Year Chart:
FedEx has a rather impressive 25-Year Chart in regards to its consistency. Looking at the illustrated channel, there are very few instances where FedEx broke out of a ~$100 range – and it would have been much tighter if not for 2008. So in a time where predictability is invaluable, FedEx may prove to be a rarity among the market.
Over the last year, FDX has posted price gains of 10%, and a total return of 11%. So the Deutsche Bank forecast of a 20 percent potential upside, is welcome news for investors.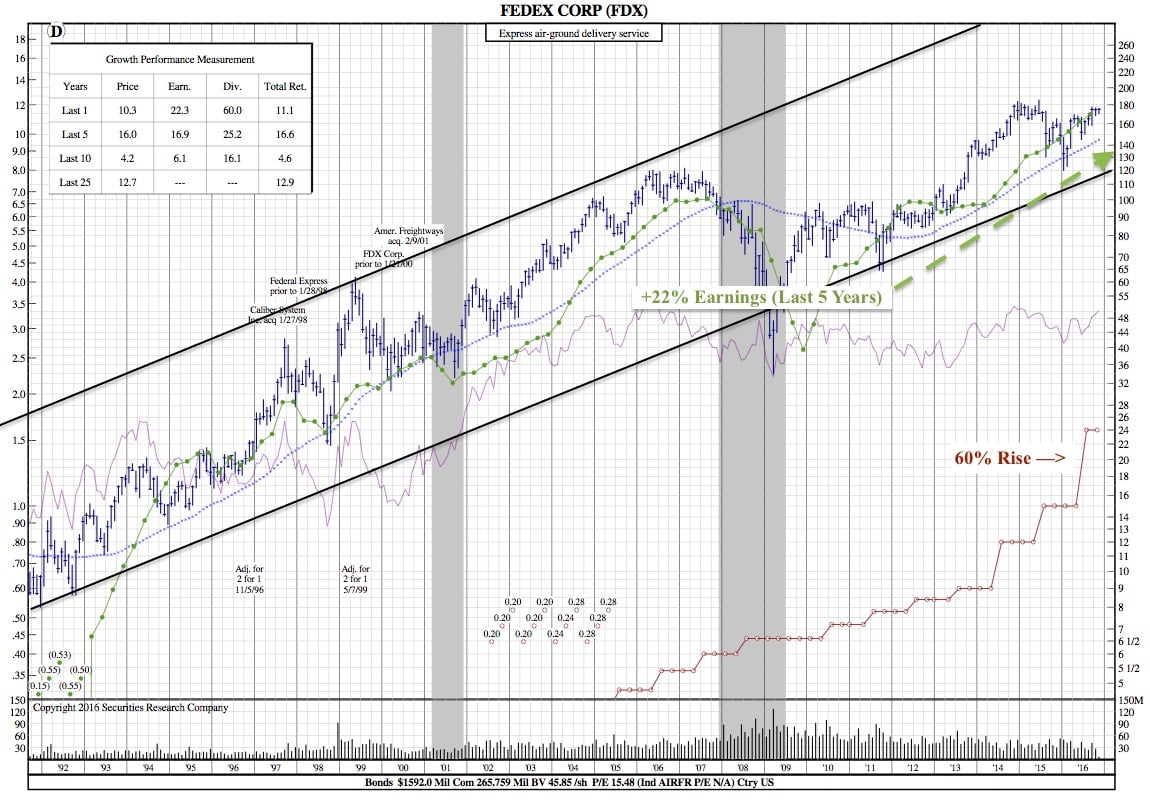 For more SRC Chart Insights & the latest market trends and topics, be sure to sign up for free at SRCstockcharts.com and follow us on Facebook @srcstockcharts & on Twitter @SRC_StockCharts