Facebook Q1 Earnings Report (21-Month Chart)
TechCrunch — Facebook had another strong quarter, beating estimates to start 2017. It scored $8.03 billion in revenue and $1.04 GAAP actual EPS in Q1 compared to $0.87 EPS estimate. It earned that from 1.94 billion users, up from 1.86 billion last quarter, growing at a faster 4.3 percent compared to 3.91 percent last quarter.
Steady Growth, Strong Profits
At this rate, Facebook should hit 2 billion total users in Q2. Daily active users reached 1.28 billion, up from 1.23 billion last quarter. While fake news, video violence, and copying Snapchat have all been fixtures of the Facebook news cycle, its user growth actually grew during the time period. Facebook added 3 million monthly users in the lucrative but saturated US & Canada market, though the Asia-Pacific region was the big driver, where Facebook added 43 million users.
The company told investors that "Facebook is no longer reporting non-GAAP expenses, income, tax rate, and earnings per share (EPS)." That means it will be more prominently disclosing stock-based compensation in its expenses, which is important since tech companies like Facebook pay employees lots of stock that vests over time to keep them from leaving.
[Correction: TechCrunch and several other publications wrongly compared the new GAAP actual EPS with the non-GAAP analyst estimate, since Facebook no longer reports non-GAAP financials. Since Facebook's GAAP actual EPS was $1.04 compared to the analyst estimate of $0.87, Facebook actually beat the street this quarter, rather than having mixed results as we originally reported.]
Facebook beat analyst estimates on revenue, which were $7.83 billion. Facebook had closed the market earlier today down 0.68 percent at $151.80. Shares dropped 2.37 percent in after-hours trading. Today's report shows that running out of News Feed ad space hasn't prevented Facebook from continuing to grow its revenue.
Mobile now counts for 85 percent of Facebook's ad revenue, compared to 84 percent last quarter, accounting for $6.7 billion in ad revenue. Facebook earned $3.06 billion in profit in Q1, up 76% year-over-year while revenue grew 49% year-over-year. Facebook managed to slow the decline of its games payments business, with it earning $175 million in Q1 compared to $180 million last quarter and $195 million in Q3. Facebook stopped reporting mobile-only users.
Headcount grew to 18,770 people, up 38 percent YOY. Facebook's total costs were $4.7 billion, giving it a 41% operating margin, down from 52% margin last quarter.
Facebook's focus on the developing world with apps like the 200 million-user Facebook Lite, recently rolled-out Messenger Lite, and new Instagram offline mode are paying off. Average revenue per user in the Rest Of World region hit $1.27, up 40% in a year.
FB 21-Month Chart: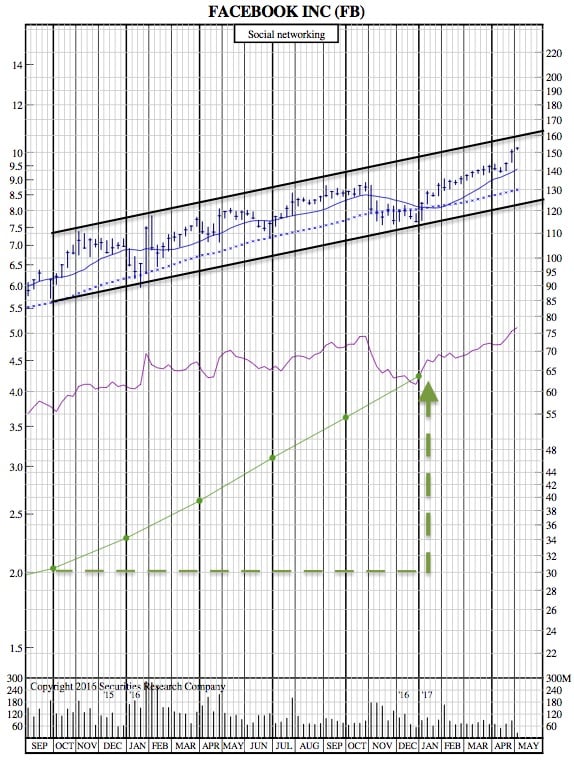 Zuckerberg On Leapfrogging Snapchat
During the earnings call, Mark Zuckerberg gave an overview of Facebook's work on its new mission to "build community" that the CEO described in his humanitarian manifesto in February. Progress includes getting people to join community groups, launching Community Help for organizing disaster and crisis relief, and launching Townhall to connect people to their elected representatives.
One important piece of news from the call was the first indication of the performance of WhatsApp Status, the Facebook-owned messaging app's Snapchat Stories clone. Zuckerberg said WhatsApp Status now has 175 million daily users just 10 weeks after launch, making it larger than Snapchat as a whole.
But Zuckerberg's most electric comments came when he characterized Facebook's progress in visual communication and augmented reality versus competitors. While he didn't name Snapchat, the comparison was implied when he said (emphasis mine):
"I think we were a little bit late to the trend initially around making cameras the center of how sharing works. But I do think at this point we're pretty much ahead in terms of the technology that we're building and making an open platform I think is a big step forward. A lot of people are using these products across our family of apps. And I would expect us to continue leading the way forward on this from this point on."
The CEO seems bullish on outside developers helping Facebook to produce a wider range of AR content than Snap can itself. When asked about monetizing AR, Zuckerberg brought up how object recognition could enable floating Buy buttons on real world things.
Another significant point from the call was Facebook's growing emphasis on long-form video and purposeful viewing, rather than the short-form video people spontaneously discover in the feed today. Efforts to thwart ad blockers have also succeeded, with CFO David Wehner saying Facebook served 32% more ad impressions in Q1 2017 versus Q1 2016.
Scandals Don't Slow Facebook
eMarketer estimates that Facebook will generate $36.29 billion in net digital ad revenue in 2017, up 35% from last year. That would give it the second largest share of the global online ad market with16.2%, behind Google's 33%. 45% of Facebook ad revenue is expected to come from the US. While Facebook doesn't break out Instagram financials, eMarketer expects it to earn $3.92 billion in global ad revenue or 12.3% of Facebook's ad revenue.
"Advertisers continue to report positive results from their ads on Facebook, but they remain concerned about things like fake news and the measurement glitches that Facebook has revealed, " says eMarketer analyst Debra Aho Williamson. "How the company addresses these and other concerns will be a key factor that determines whether revenue growth continues as strongly in the next few quarters and years as it has in the recent past."
Q1 saw Facebook spin up several new products that could turn into serious money-makers for the social network. Following the success of Instagram Stories, Facebook continued its efforts to clone Snapchat with the launch of Messenger Day, Facebook Stories, and WhatsApp Status. These clones could dampen growth for Snapchat while eventually sucking in marketing dollars from the ads it will likely insert between Stories as it does on Instagram.
Competing with LinkedIn, Facebook launched job opening posts that can be turned into ads. Facebook began testing ad breaks inside of recorded videos as well as Live broadcasts and will keep 45% of the ad revenue while paying creators 55%.
But Facebook saw trouble with Oculus, paying $300 million (plus $200 million from Oculus founders) to Zenimax after losing a lawsuit about stolen intellectual property. Co-founder Palmer Luckey left the company, and Oculus reduced the price of its Rift headset amidst slow sales of tethered VR hardware across the industry.
The biggest story of the quarter was Facebook's on-going struggles to fight fake news and offensive content. It's begun working with outside fact checkers, hired a former New York Times product manager to run news product, made banned content reporting easier, and today announced it will hire 3000 people to speed up vetting of flagged content. Yet even that controversy hasn't seemed to slow down the social juggernaut.