Apple: Sep. 7th Event and Irish Tax Bill
Apple's September 7th event is set to announce the highly anticipated iPhone 7, the Apple Watch 2, iPad Pro 2, and new MacBook Pro.
These special events usually garner the type of excitement that Bulls flock to. However, when we look at SRC's 21-Month Chart, we see that the price/earnings growth we've been accustomed to seeing from $AAPL over the last few years, is a bit lackluster. Customers are losing the desire to constantly upgrade their devices, as newer models are only incrementally improving features.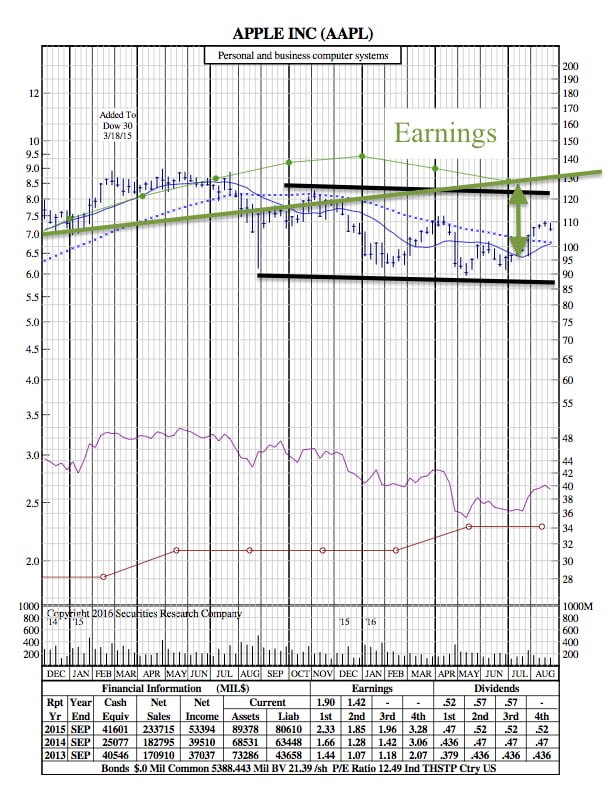 All hope is not lost, however. As you can see, there's strong support around the $90 mark and no resistance until $120/share. If Apple has strong sales figures on the new iPhone 7 and the new MacBook (the first real upgrade for the product line in 4 years), look for a strong run that will test the $120 resistance level.
Now, if you're familiar with Apple, you'll recall that they have an extraordinary amount of cash ($232B) and that the majority of it is held overseas ($214B).
The cash held overseas is the source of a tax controversy Apple is involved with in Ireland.
Apple is facing a potential tax bill running into billions of euros, with the European Union set to release a finding into the company's dealings in Ireland as soon as today.
In preliminary findings in 2014, European competition authorities said Apple's tax arrangements were improperly designed to give the company a financial boost. There's a range of estimates on how much Apple might have to pay. In a worst-case scenario, Apple may face a $19 billion bill if the government ultimately loses and is forced to recoup tax from the company, according to JPMorgan Chase & Co. analyst Rod Hall. The Irish Times reported earlier on Monday that the figure might not be much more than 100 million euros ($112 million), although it later revised its estimate upwards. (Bloomberg)
To read more on the story, check out the Bloomberg Article.
Depending on the ruling and the combination of Apple's latest product launches, look for the stock price to make a big move in either direction.