Appetite for Gold Still Strong Despite Possible Rate Hike – $GLD 12-Year Chart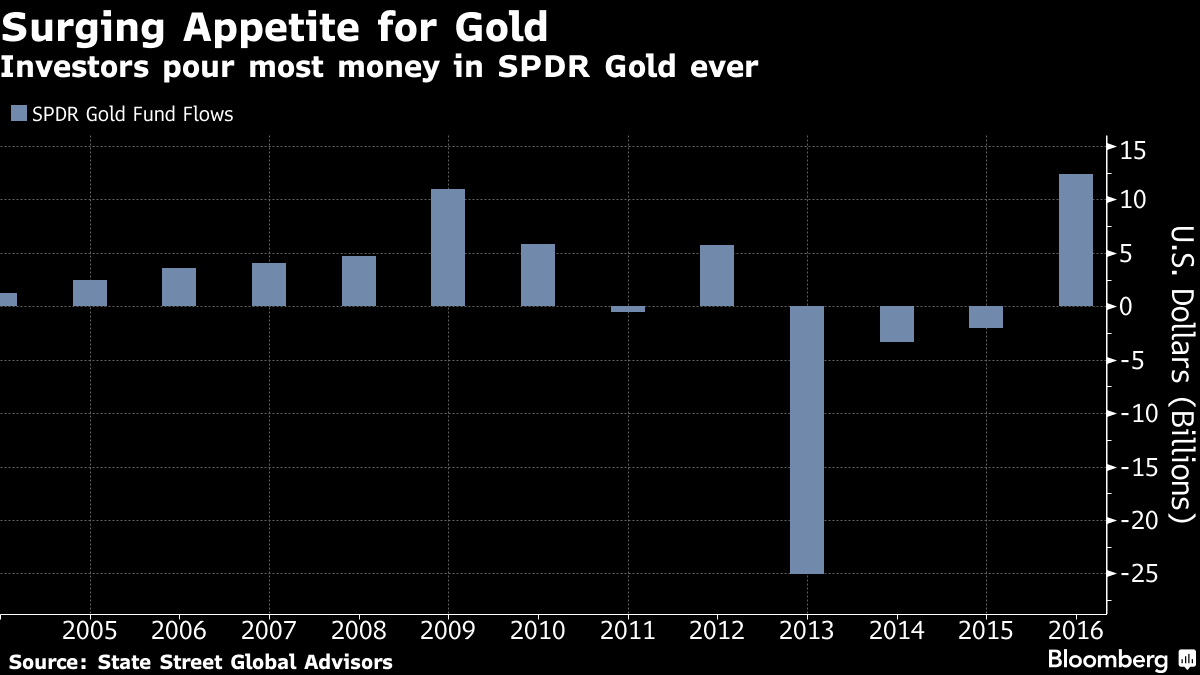 Gold-backed ETFs are poised for a third straight quarterly gain – the longest streak since 2012. So far in 2016, investors have placed $12.4B into SPDR Gold Shares ($GLD).
When it comes to the relationship between Gold returns and the Fed Raising rates, it's evident that after 3 consecutive years of losses, the Federal Reserve was  holding off raising rates, while accommodative monetary policies from Japan to Europe helped push some bond yields below zero. Lower borrowing costs boost the investment appeal of commodities, which don't offer yields or dividends.
As of Friday, traders were pricing in a 30 percent chance the Fed will raise rates this month, up from 24 percent a month ago, after Boston Fed President Eric Rosengren moved more firmly into the hawkish camp. Dallas Fed President Robert Kaplan also spoke Friday, saying that he still believes that data over the last several months have strengthened the case to raise rates, but the Fed can afford to be "patient and deliberate." (Bloomberg)
According to David Mazza, the head of ETF and mutual-fund research at State Street Global Advisors, which manages SPDR ETFs: "The market is unfortunately going to play off every comment and every data point,". "The data still doesn't really support a Fed rate hike. The market has been pricing, basically since June, one rate hike this year and the question is, when will that happen?"
When looking at the $GLD 12-Year Chart, we see that gold has rallied 26 percent this year, and is poised for its largest annual gain since 2010. It's also worth noting that SPDR Gold received the largest inflow among more than 7,000 ETFs tracked by Bloomberg.