2017 On Pace for the Second Least 100-point moves since 2006 (DJIA 25-Year Chart)
CNBC — Eighteen years ago, when the Dow Jones industrial average (Dow Jones Global Indexes: .DJI) was trading at half its current level, 100-point daily moves were twice as significant. That's just math.
What's surprising is that they happened much more often.
So far this year, the Dow has only closed higher or lower by more than 100 points on 13 days, including Wednesday— a bit more than a quarter of its sessions. If this pace keeps up, 2017 will be the year with the second least 100-point moves since 2006.
This even though 100 points represents less than 0.49 percent of the Dow's average closing level in 2017, so such moves are far less significant than they have ever been before.
DJIA 25-Year Chart: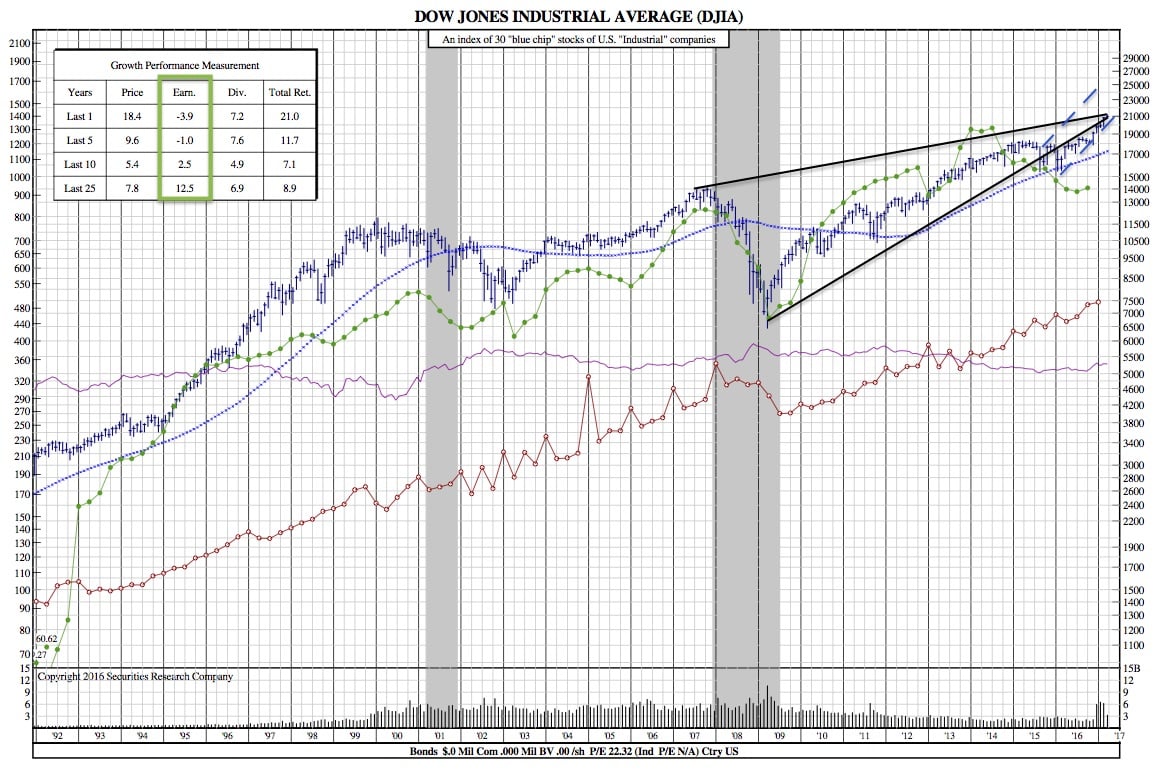 A notable comparison can be drawn by looking back at 1999. That was the year when the Dow first broke above 10,000, a feat accomplished for the first time in intraday trading 18 years ago on Thursday. In that exuberant year, even though 100 points was 0.95 percent of the Dow's average closing level, the index managed 88 such moves, meaning that the Dow closed 100 points higher or lower more than 1 out of every 3 sessions.
The subtle irony is that when the Dow broke above 20,000, some pointed out that it no longer made sense for the financial press to make a big deal out of 100-point moves. While this may be true, such moves are actually more newsworthy insofar as they happen less.
Of course, the lower number of 100-point days comes alongside a host of stats pointing out just how abnormally quiet stocks have been. The CBOE Volatility Index (STOXX: .VIX) has remained anomalously low, and the S&P 500 (INDEX: .SPX) has not fallen by 1 percent or more since early October, the longest such streak since 1995.
While some have blamed the lack of movement on a prevailing "buy-any-dip" mentality, Miller Tabak equity strategist Matt Maley says falling correlations among stocks also have something to do with it.
"As some groups have moved higher, others have lost some steam … and thus they're offsetting one another & we're not getting the big move in the entire market on single days like we did previously," Maley wrote to CNBC on Thursday.
He added enthusiastically: "At some point, this will all change … and we'll go back to a more volatile market (in both directions) … it ALWAYS does!!!!"
Once that happens, investors should remember not to get too jittery if the Dow rises or falls 400 points. After all, given current levels, that's less than a 2 percent move.