The S&P 500 hasn't done this Since 1994 (35-Year Chart)
CNBC — They say all good things must come to an end, but that might not be the case when it comes to the Trump rally.
The S&P 500 just posted its 100th consecutive trading day without a decline of 1 percent or more, its longest such streak since 1994, according to Paul Hickey of Bespoke Investment Group. But as he points out, that shouldn't deter investors from buying stocks.
"I don't think that it is necessarily a cause for concern, but investors should be aware that this lack of volatility is extremely uncommon, so they should expect to see volatility start to increase going forward, especially with the Fed poised to hike rates at a more consistent pace," Hickey told CNBC Tuesday.
S&P 500 35-Year Chart: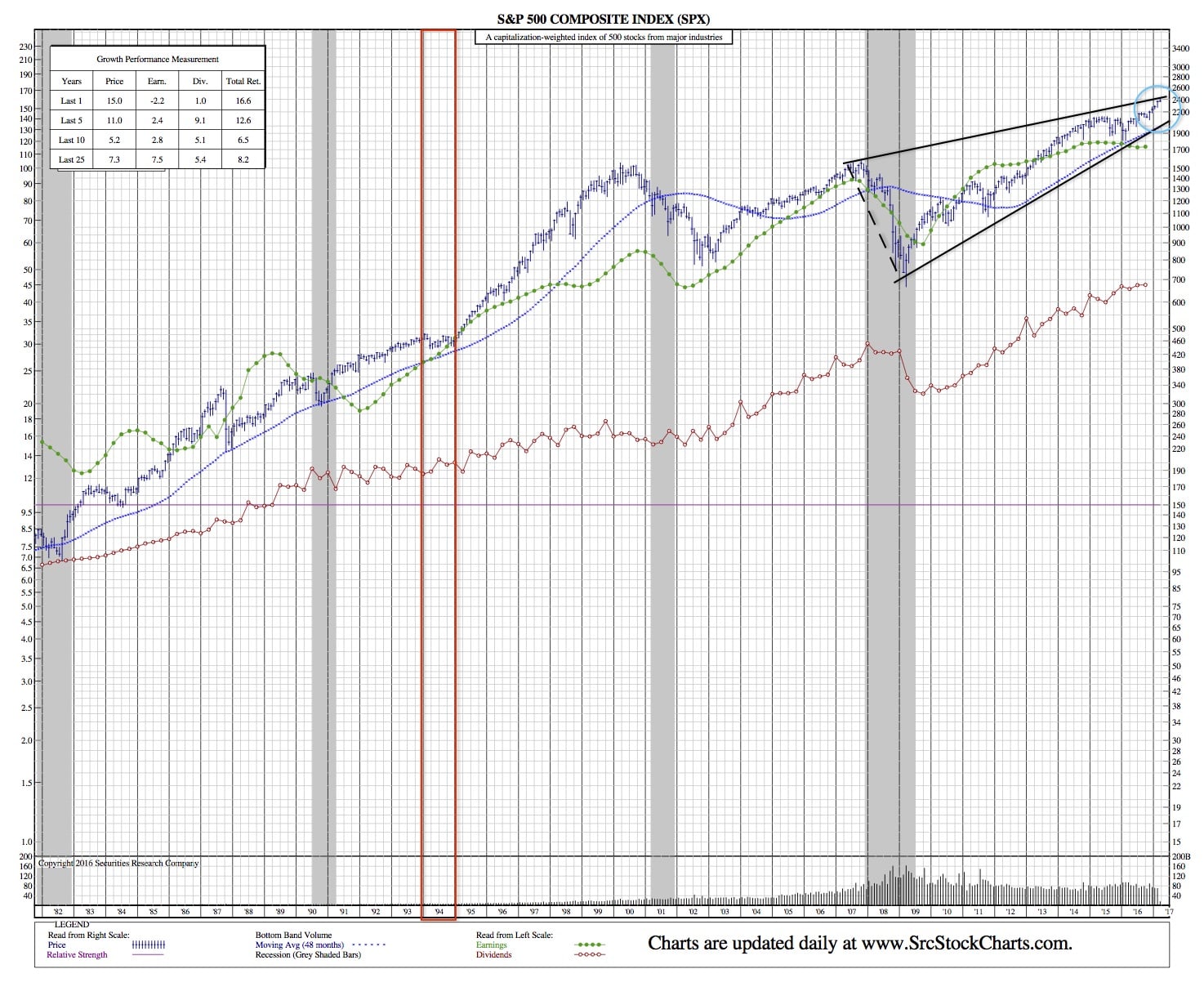 The tepid price action in stocks comes amid a unique period in Washington where new executive orders, the resignation of key White House officials and tweet firestorms from President Donald Trump dominate headlines. But for Hickey, that's just a testament to the resilience of the markets.
"It's interesting that with all the supposed turmoil and chaos supposedly taking place in Washington with the new administration, the market has been extraordinarily calm," he said. "Perhaps the narrative of chaos in Washington is an exaggeration."
From a technical standpoint, Craig Johnson of Piper Jaffray agreed that the "secular bull" market is still intact.
Looking back to data from the 1950s, Johnson noted that while rare, past periods of low volatility have actually proved to be positive for stocks.
Since 1950, the market has logged only 21 other instances when the index traded without a 1 percent down day for 70 or more consecutive trading days, Johnson wrote in a recent report. The longest streak was in 1963 when the S&P 500 saw 184 straight trading sessions without a decline of 1 percent or more.
Interestingly enough, the S&P 500 in these 21 relatively quiet periods has generated average returns of 13.9 percent over the next year, with 85 percent positivity rate.
"We still like what we're seeing in the market and we think that history is on our side saying that this is an environment where equities will continue to work higher," Johnson said Tuesday on CNBC's "Trading Nation."
"If there is to be a pullback — a 1 percent drawdown in the market — we want to be buying the dips."