Tesla 21-Month Chart after Q4 Earnings Report
Tesla Inc. posted a quarterly loss while assuring its much-anticipated Model 3 electric sedan remains on schedule, as Chief Executive Officer Elon Musk closes in on his pursuit of more mainstream auto market consumers.
The electric-car maker expects to deliver as many as 50,000 vehicles in the first half of the year and still sees Model 3 production starting in July, according to a letter to shareholders Wednesday. The Palo Alto, California-based company lost 69 cents per share during the final three months of last year, beating analysts' estimates.
The confirmation for the car Tesla plans to sell for close to $35,000 before incentives lend credence to Musk's ability to deliver for investors who have bid up the market value of the 14-year-old company to rival automakers that have been around more than a century and sell millions of cars a year. Entering the first quarterly earnings report since the acquisition of money-losing SolarCity Corp., Tesla's shares were more overvalued than ever before.
"The recent run-up in Tesla stock has less to do, in our view, with anything around the near-term financials, and more to do with the near-superhero status of Elon Musk," Brian Johnson, an analyst at Barclays Plc, wrote in a note to clients Wednesday before results. "Since Tesla is already valued as if it's the next Nissan, Ford, or Honda, it implies that much of the future growth is more than already reflected in the stock price."
The fourth-quarter deficit, excluding some items, was narrower than the $1.14 per share average estimate among analysts surveyed by Bloomberg. The shares climbed 1.6 percent to $278 as of 4:16 p.m. in New York after the close of regular trading.
TSLA 21-Month Chart: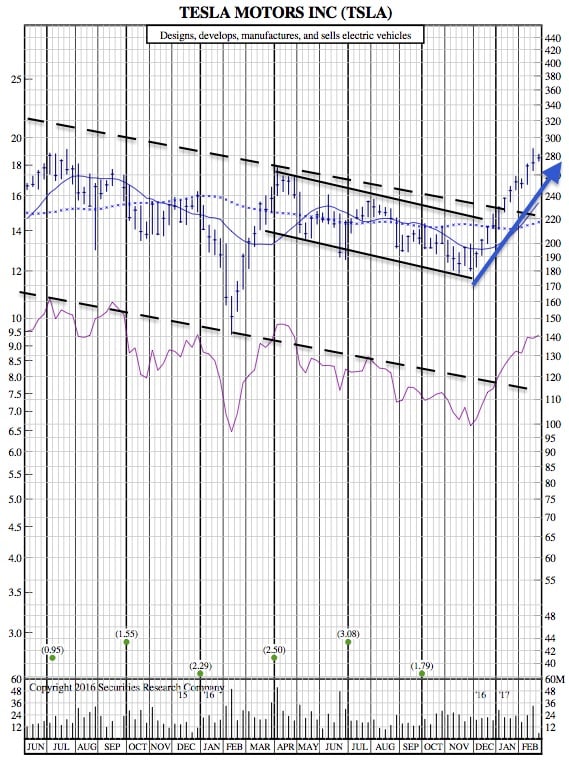 Tesla has had trouble meeting previous production forecasts and blamed a series of issues throughout 2016 for missing quarterly and annual projections. The company said earlier this year it delivered about 22,200 cars worldwide in the fourth quarter, bringing its total to 76,233 in 2016, less than an initial forecast for 80,000 to 90,000.
Musk has vowed to make 500,000 cars annually in 2018. Meeting that ambitious target will depend a great deal on the Model 3, which is expected to boast about 215 miles of battery range per charge. Tesla reported 373,000 pre-orders for the Model 3 as of May, when it last updated its reservation tally.