Procter & Gamble Posts Disappointing Q1 Earnings Report (21-Month Chart)
CNBC — Procter & Gamble, the maker of Tide detergent and Pampers diapers, is still struggling to grow sales in the face of global uncertainty and a strong dollar.
While third-quarter earnings outpaced Wall Street estimates, revenue fell short, sending shares of the stock down near 2 percent Wednesday morning.
Here's what the company reported vs. what the Street was expecting:
EPS: 96 cents per share adjusted vs. estimate of 94 cents, according to Thomson Reuters analysts' consensus.
Revenue: $15.61 billion vs. estimate of $15.73 billion, according to analysts.
Procter & Gamble said its net sales for the quarter fell to $15.6 billion, down 1 percent from sales of $15.78 billion a year ago, marking the thirteenth consecutive quarter of declines.
"The third quarter macro environment was characterized by a slowdown in market growth, continued geopolitical disruptions and foreign exchange challenges," CEO David Taylor said in a statement.
PG 21-Month Chart: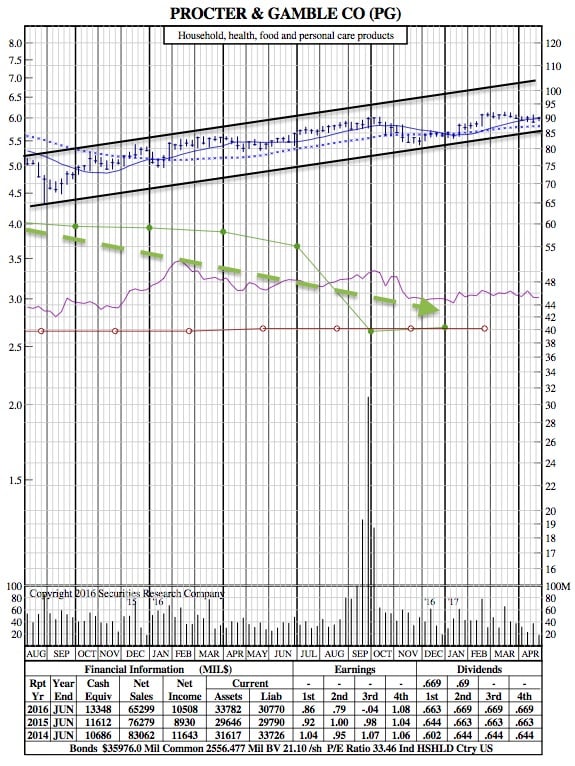 Management also cited a slowdown in total market growth and a stronger U.S. dollar as a reason for the company's 8.3 percent drop in third-quarter profit.
"Market growth really across the world declined… through January and February," P&G CFO Jon Moeller told CNBC in an interview Wednesday morning. Though, he added, "[Procter & Gamble] remain[s] on track to deliver our going-in objectives on the top line, on the bottom line."
Organic sales, which are defined by the company as those that exclude any impacts of foreign exchange and acquisitions and divestitures, grew 1 percent overall and in four of the company's five business segments.
Organic sales in its grooming segment fell 6 percent due to lower volume and reduced pricing in shave care, Procter & Gamble said.
Beauty segment organic sales rose 1 percent from one year ago, while health-care sales increased 6 percent. Gains in the company's health-care segment were driven by greater volume in oral care, along with innovation on power toothbrushes, P&G explained.
The company has been focused on trimming its portfolio lately, eliminating more than 40 unprofitable brands such as Clairol and Wella, and planning to save as much as $10 billion in costs over the next five years.
"Challenging environment, frankly a challenging quarter, but [we're] continuing to make progress," Moeller told CNBC.
Although P&G is at the low-end of its current forecast year to date, the company continues to back its initial guidance, which calls for organic sales to grow in the range of 2 to 3 percent for the full year 2017.
However, with expectations that foreign exchange rates and asset sales will continue to dampen its revenue, P&G expects net sales to fall somewhere between a decline of 1 percent and flat with the year-ago period.
Meanwhile, adjusted earnings per share will likely grow at a mid-single digit rate for the full year, the company said.
As of Tuesday's close, shares of Procter & Gamble have climbed more than 13 percent from one year ago and are up about 7 percent for the year-to-date period.