Amazon Destroys Q1 Earnings Expectations (12-Year Chart)
TechCrunch — Amazon reported first-quarter earnings after the bell on Thursday. The company shattered earning expectations, reporting $1.48 per share, when Wall Street was expecting $1.12. Net income stood at $724 million.
Revenue came in at $35.71 billion, above the $35.30 billion that analysts were forecasting and up 23% from last year. Shares quickly soared 5% in initial after-hours trading.
However, operating income declined 6% to $1 billion for the quarter. Investors had been hoping to see operating margin expansion in North America.
In a statement, CEO Jeff Bezos spoke about their optimism in India, a large market opportunity for growth. "Our India team is moving fast and delivering for customers and sellers. The team has increased Prime selection by 75% since launching the program nine months ago, increased fulfillment capacity for sellers by 26% already this year, announced 18 Indian Original TV series, and just last week introduced a Fire TV Stick optimized for Indian customers with integrated voice search in English and Hindi," he said.
eBay, Tencent, and Microsoft recently made a big bet on Amazon's India competitor, Flipkart.
AWS, the cloud service platform, saw substantial growth, accounting for $3.7 billion for the quarter. This compares to $2.6 billion in the same period last year or up 43%. Growth is slowing, however. The same category saw 64% growth the year before.
AMZN 12-Year Chart: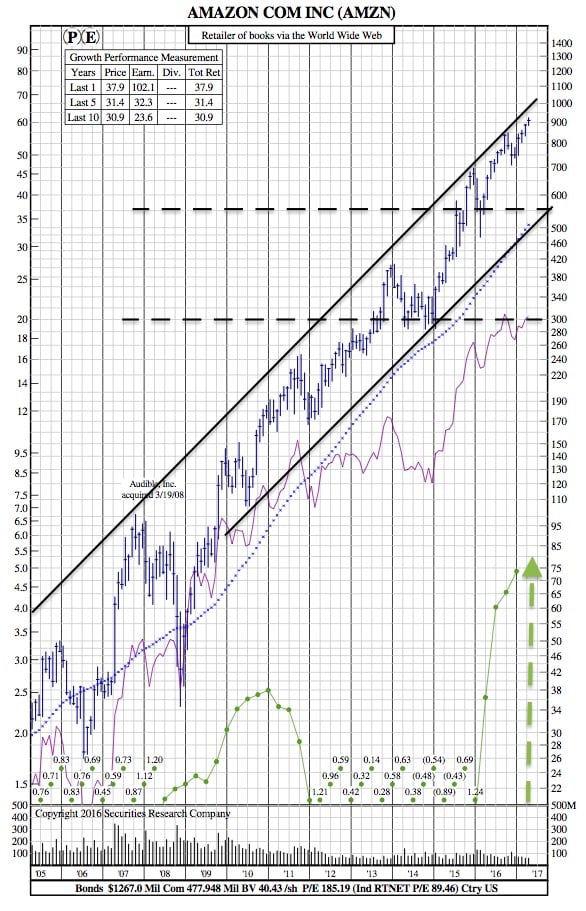 Amazon shares are up 51% in the past year. The company's market cap is $439 billion.