Nike Beats on Everything but Sales in Latest Earnings Report (21-Month Chart)
Business Journal — Nike Inc. on Tuesday reported $0.68 in quarterly earnings per share, well ahead of the $0.53 expected by analysts, but its $8.43 billion in quarterly sales, a 5 percent increase, came up just short of the $8.47 billion expected.
Nike and other sportswear companies have been under pressure because of a consumer shift to casual, white sneakers and a string of sporting goods store closures.
Nike on Tuesday reported quarterly earnings ahead of Wall Street estimates, although the company came up just short on sales.
On a conference call with analysts, executives tried to tamp down worries about the company's business plan by announcing a new "triple double" strategy meant to double how fast the company creates new products, double how fast it gets products to market and doubles its interactions with consumers.
CEO and Chairman Mark Parker said the strategy is meant to "ignite the next phase of growth" for the $32.4 billion company.
Net income for the quarter increased 20 percent to $1.1 billion. Earnings per share increased 24 percent.
Nike's bottom line benefitted from a significantly smaller tax bill. The company's effective tax rate for the quarter was 13.8 percent, down from 16.3 percent last year. Nike attributed the decrease, partially, to an increased percentage of sales outside the U.S. which are subject to lower taxes.
Sales in North America, Nike's biggest sales territory, increased 3 percent to $3.8 billion. Nike posted sales increases in all six of its geographies.
NKE 21-Month Chart: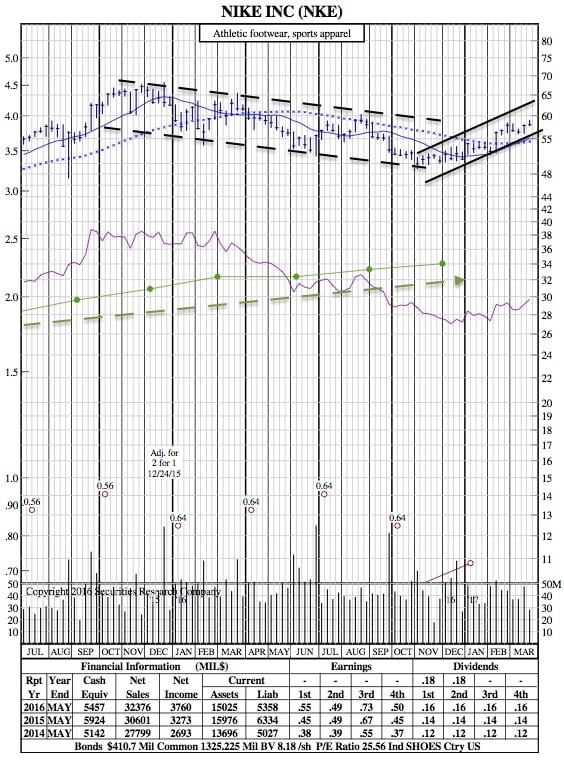 The earnings report, Nike's 2017 third-quarter, covered the three-month period ending Feb. 28.