Lululemon 21-Month Chart after 20 Percent Fall following Latest Earnings Report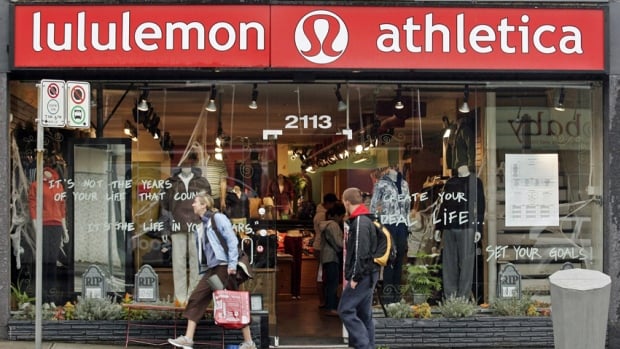 Reuters — The steep drop in Lululemon Athletica's (LULU) stock price, following a sales warning that resulted from poor color choices in the company's spring collection, turns the spotlight on slowing growth in the athleisure category pioneered by the Canadian yoga wear retailer.
Shares of rivals Nike Inc (NKE) and Under Armour (UAA) also were down on Thursday, raising questions of whether athletic leisure wear can maintain its torrid growth amid competition from denim and possible shopper fatigue with the now decade-old fashion category.
In the age of fast fashion, when trends change overnight, athletic leisure wear is showing signs of age. Industry-wide sales in North America have grown 39.2 percent to $26.05 billion in the last five years, according to Euromonitor.
However, sales in the category are expected to grow at 5.2 percent in 2017, slower than the average 6.9 percent rate at which the category had grown in the last five years.
The latest quarterly results have also indicated a slowdown from the marquee manufacturers.
The last few years have seen a surge in the number of retailers offering athleisure clothes, ranging from mass-market products sold by retailers such as Gap Inc (GPS) to $1,000 leggings from designers such as Alexander McQueen.
"There is no more the growth that was there before and there are way more competitors for the brand (Lululemon) compared to when they'd started 10 years ago," Jan Rogers Kniffen, chief executive of consulting firm J. Rogers Kniffen WWE, said.
A hash of celebrity brand launches, including Beyonce's Ivy Park line in April last year, has also competed for sales at the traditional retailers.
"Nordstrom (JWN) has got a private label on athleisure, (J.C.) Penney (JCP) has also got a private label on athleisure, Kohl's (KSS) has got a private label on athleisure. Everybody is doing it at every price point," Kniffen said.
A comeback in denim, led by 1970s-inspired wider leg denim pants and higher waist jeans from Forever 21 and H&M (HMb.ST), is also eating into demand for athleisure wear.
"We continue to believe trend shifts away from athleisure to denim will present stiffening headwinds to LULU," Canaccord Genuity analyst Camilo Lyon said.
LULU 12-Year Chart: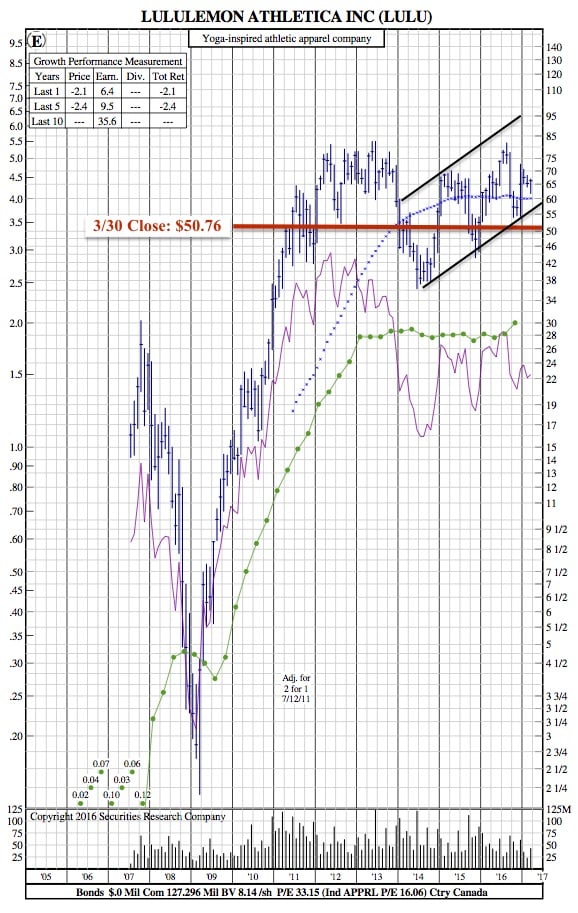 The stock market is giving the industry little room for error. Nike's shares fell as much as 7.3 percent after the company reported lower-than-expected quarterly revenue last month, while Under Armour's shares fell 28 percent in January after it forecast 2017 sales well below analysts' estimates.
"Over the past 12-24 months, other athletic wear bellwethers such as NKE and UA have seen meaningful multiple contractions once sales started slowing and margins stopped expanding," said Ike Boruchow, an analyst with Wells Fargo, in a research note.
The market on Thursday showed little patience for Lululemon's disappointing results, too. The company's shares closed down 23.4 percent at $50.76.