Kohl's Corp 12-Year Chart after Earnings Beat and Dividend Raise
Investopedia — Kohl's (NYSE: KSS) is pumping its quarterly dividend 10% higher, despite the fourth quarter and fiscal 2016 that saw year-over-year declines in key line items.
For Q4, Kohl's posted sales of $6.21 billion, down from the $6.39 billion in the same period the previous year, on same-store sales that declined by just over 2% — the fourth straight quarter the metric has dropped. Net income also fell, dropping to $252 million ($1.44 per diluted share), from $296 million ($1.58 per diluted share) in the fourth quarter of 2015.
KSS 12-Year Chart: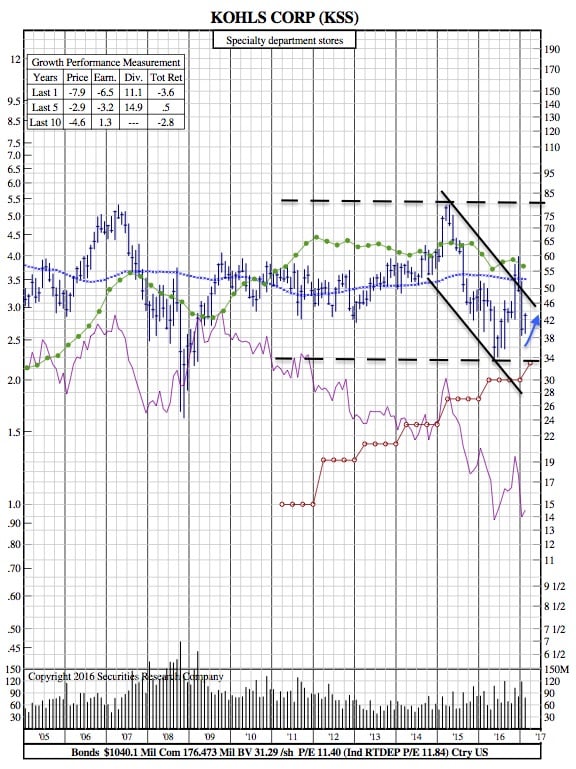 Still, the bottom-line figure well eclipsed the analysts' average estimate of $1.33 per share. Revenue was basically in line with expectations of $6.22 billion.
In the press release detailing the results, Kohl's CEO Kevin Mansell said that the weakened sales numbers were "driven by declines in brick and mortar traffic, and offset somewhat by strength in online demand.
For fiscal 2016, the company reported total sales of $18.69 billion, nearly 3% below the 2015 result. Net income slipped by 17% to $556 million, or $3.11 per share.
Kohl's provided guidance for its current fiscal year. The retailer believes it will book sales ranging from 1.3% below to 0.7% above the 2016 tally. Per-share earnings should come in at $3.50 to $3.80, representing year-over-year growth of 13% to 22%.
The company's next quarterly dividend is to be $0.55 per share, a 10% improvement over its predecessor. At the most recent closing share price, this amount would yield 5.1%, which is substantially higher than the current 1.9% average of dividend-paying stocks on the S&P 500.
The dividend will be handed out on March 22 to stockholders of record as of March 8.