HP Posts Strong Q2, Driven by Demand for Printers and PCs (12-Year Chart)
Bloomberg — HP Inc. showed accelerating sales momentum in the second quarter, delivering growth in both personal computers and printers for the first time in more than a half-decade.
Revenue rose 6.9 percent to $12.4 billion in the period that ended in April, topping analysts' estimates for the fourth consecutive quarter. HP also gave a forecast for third-quarter profit that may exceed projections and raised its outlook for the fiscal year. That followed an upbeat quarterly report in February. The stock jumped as much as 9.2 percent in extended trading.
Chief Executive Officer Dion Weisler has been looking for the right lineup of products to grab share in markets that have been under pressure since his company's split from Hewlett Packard Enterprise Co. Consumer demand helped drive stronger growth in the recent period, and laptop unit shipments jumped 12 percent, reflecting a PC industry that finally posted a glimmer of growth for the first time since 2012, according to IDC. HP also has been investing in new printer products, while spending marketing dollars to drum up new business.
"I would characterize this quarter for us really as a breakthrough quarter," Weisler said in a briefing with reporters. "We're playing offensive — we're in the driver's seat of our own future, and I think that future is incredibly bright for us."
HP shares have climbed 28 this year through Wednesday's close in New York. The stock has outperformed Hewlett-Packard Enterprise, which is up 9.1 percent.
Analysts had projected second-quarter sales of $11.96 billion. Profit before certain items in the recent period was 40 cents a share, better than the average estimate of 39 cents. For the current quarter, HP expects an adjusted profit of 40 cents to 43 cents, compared with estimates of 42 cents.
The company also boosted its forecast for the current fiscal year, which ends in October. Adjusted profit from continuing operations should be $1.59 to $1.66 a share, up from a February projection of $1.55 to $1.65. Analysts on average estimate $1.62 in annual profit, according to data compiled by Bloomberg.
HPQ 12-Year Chart: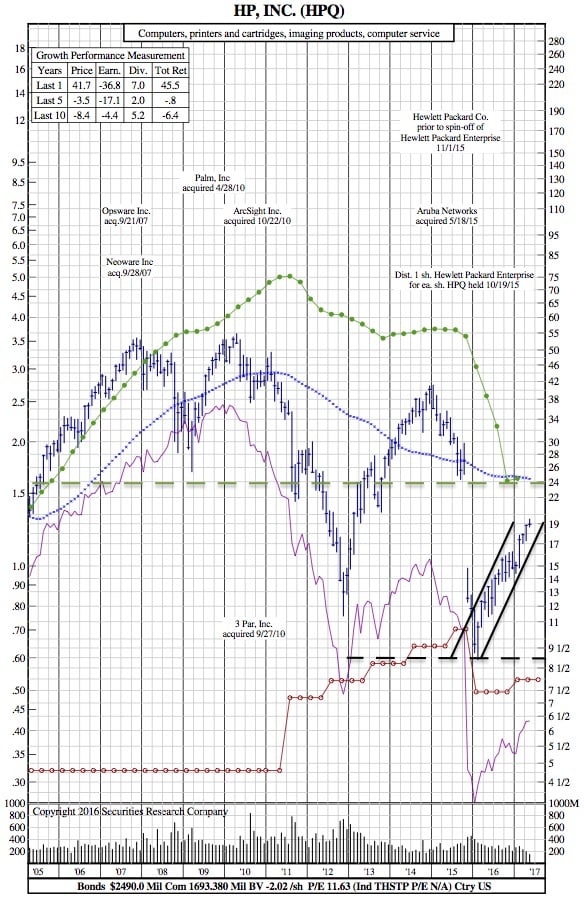 PCs, Printers
Palo Alto, California-based HP Inc. is made up of the PC and printing divisions of the former Hewlett-Packard Co. The latter company split in two in 2015, with the corporate computing and services units becoming Hewlett-Packard Enterprise. HP Inc. on Wednesday said its two main product groups both posted quarterly revenue growth for the first time since fiscal 2010.
Sales in the personal systems group, which includes PCs, gained 10 percent, in line with the performance of the previous period. Consumer revenue rose 16 percent, and commercial sales rose 7 percent. While notebook unit shipments climbed, desktop unit sales fell 6 percent.
Printing revenue rose 2.3 percent, after falling the previous two quarters. Commercial hardware unit sales performed better than the consumer business. Sales of supplies, including ink cartridges, climbed 2 percent, HP said.