Costco 12-Year Chart after Disappointing Earnings, Increased Membership Fees
Bloomberg — Costco Wholesale Corp. fell the most in almost 15 months after posting disappointing quarterly earnings, a sign its warehouse-club model may be less durable than expected in a shaky retail economy.
Earnings were $1.17 a share in the fiscal second quarter, the Issaquah, Washington-based company said on Thursday. Analysts had predicted $1.36 a share, according to data compiled by Bloomberg.
The results — coming from a company that's widely seen as a retail bright spot — renew concerns about the industry. Best Buy Co. and Target Corp. both gave pessimistic outlooks earlier this week, dragging down shares of the big-box retailers.
Costco slid as much as 4.3 percent to $170.40 in New York Friday, the biggest intraday decline since December 2015. The shares had climbed 11 percent this year through Thursday's close. Costco's stock had been riding high after January sales that beat analysts' estimates by more than twofold.
A membership fee increase announced Thursday also failed to placate investors. The company plans to boost its rates by $5 this year, a move that should help fuel sales and earnings.
As of June 1, its annual fees will climb to $60 for Goldstar and business members, Costco said. Its executive memberships will rise $10 to $120. The warehouse-club chain counts on the money for about 70 percent of operating income, and increases are closely watched by analysts and investors. The changes will affect about 35 million members.
Costco reported revenue of $29.8 billion in the second quarter, which ended Feb. 12. Analysts had predicted $29.9 billion. Same-store sales, excluding gas and currency changes, rose 3 percent. The growth was 2 percent on that basis in February, Costco said. Analysts had estimated 2.9 percent.
$COST 12-Year Chart: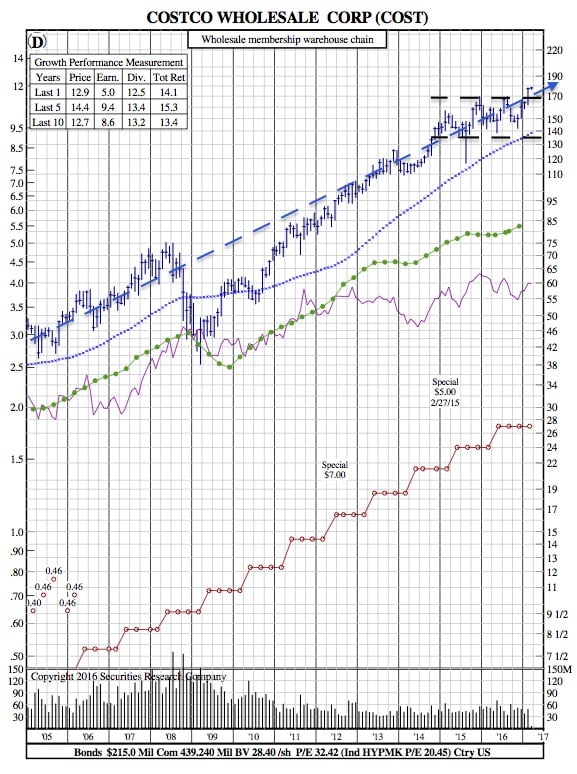 Gas inflation was the biggest headwind to the retailer this quarter, negatively impacting profit by 6 cents per share. It's somewhat counter-intuitive — while higher gas prices should boost sales, Costco's commitment to keeping the prices down hurts margins.
"When they set a price at the beginning of the week and then have to buy more during that week, that works against them," since Costco turns gas, and most products pretty quickly, said David Schick, lead retail analyst at Consumer Edge Research. "They have to buy at a higher price," but keep the same low price that they had already set.
Google Express
The company has been less aggressive in pushing into e-commerce than many rivals, but it's working with Google Express on a program that would ship products in one to three days. It's also testing other third-party shipping providers, such as Instacart, and expanding its online apparel selection, Costco said.
When it comes to e-commerce, "we feel fine with where we are," Chief Financial Officer Richard Galanti said on a conference call Thursday. Online orders only represent about 4 percent of Costco's sales, but they're growing at a rate of 11 percent to 12 percent.
Costco also continues to expand its physical footprint. The company will net an additional 29 locations this year, and it's opening its first stores in France and Iceland in May.