Amazon's Continuous Growth
Over the past 22 years, Amazon has come a long way from its online book store. Today, Amazon offers everything from A to Z, Prime, Prime Now, Amazon Fresh, original content that can stand up with the likes of Netflix, HBO, and Hulu, and much more.
Like Amazon's innovations, their sales, & NOI – their earnings are off to a rocket start after heavy investment in the business took a toll on earnings from 2011-2014. Since October 2015, their earnings are now starting to support their sky-high price.  AMZN's PE is now 188.39:1 vs. their industry's PE of 101.23:1.  The question is AMZN, can they keep their earnings growing to support their lofty PE? (see AMZN 12-Year chart).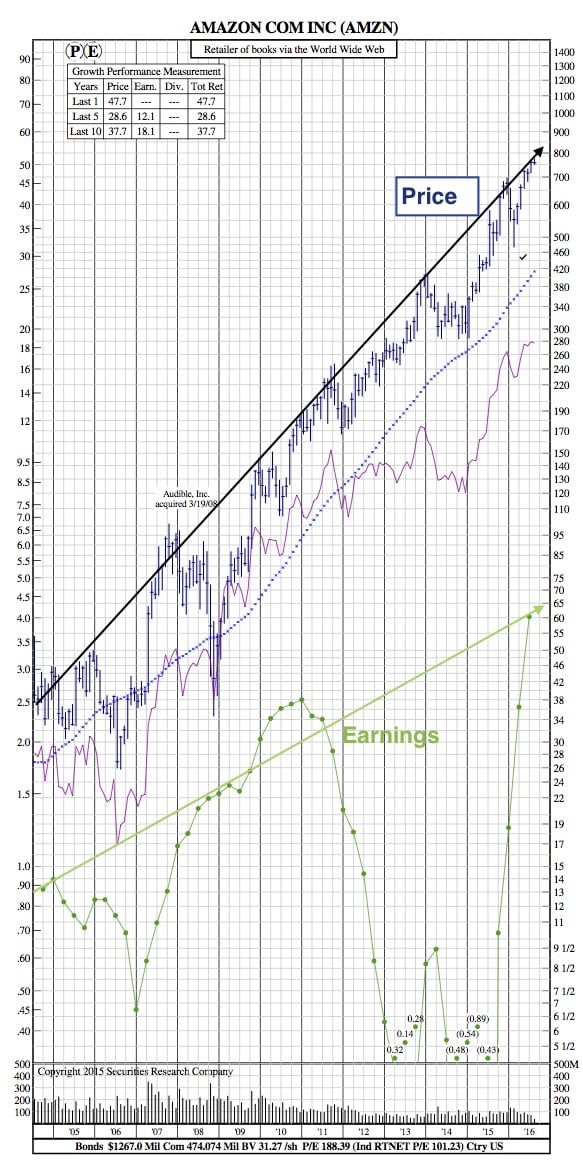 So what's causing Amazon to become so profitable lately? 
First, revenue. Amazon's compound annual growth rate from 2012 to 2015 was 20.5%.
That revenue is coming from several aforementioned business lines, with the most coming from its North American e-retail business (60%), followed by its international retailing business (33%) and then Amazon Web Services (7%), its rapidly growing and highly profitable cloud computing business.
With increased earnings, Amazon has continued to promote business growth through big R&D spending. Amazon increased its research and development funding to $12.5 billion in 2015 from $2.9 billion in 2011. As sales grew, the company doubled down on its R&D investment, which was 6% of total revenue in 2011 and grew to 12% of total sales in 2015. This has given Amazon a positive feedback loop between growth and R&D spending, and the company is likely to preserve this trend as it continues to sell the growth story.
As a result of an increase in sales, Prime subscribers, and improved margins, $AMZN continues to be an interesting long term play.