Amazon 21-Month Chart as the Company Reports Mixed Q4 Earnings News
CNBC — Amazon was pummeled on Wall Street Thursday after its holiday season sales fell short of expectations.
EPS: $1.54 a share vs. $1.35 adjusted expected by a Thomson Reuters consensus estimate.
Revenue: $43.74 billion vs $44.68 billion expected by Reuters
Amazon Web Services revenue:$3.536 billion vs.$3.6 billion expected by FactSet
Q1 guidance: Between $33.25 billion and $35.75 billion vs. revenue of $35.95 billion expected by Reuters
That's up from the comparable year-ago figures of $1 per share on $35.75 billion in sales.
AMZN 21-Month Chart: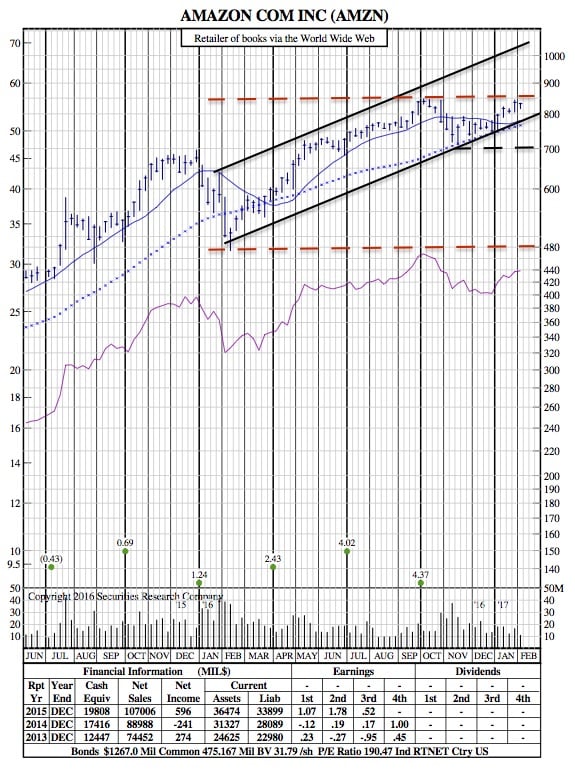 The online retail technology company reported fourth-quarter earnings that beat analysts' expectations on Thursday, but revenue that fell short of estimates. It also gave future guidance that was below the average estimate.
Shares dropped more than 3.5 percent after hours.
The free-spending company has invested heavily in new projects and infrastructure to meet ballooning demand as more shopping moves online. Amazon keeps taking business from traditional retailers, which are closing stores by the hundreds.
"Part of the revenue miss might be the ongoing shift to being a third-party marketplace," RJ Hottovy, senior retail analyst at Morningstar, told CNBC's "Closing Bell." "When that happens, you're not getting as much of the revenue in there."
This year, it added fulfillment centers and futuristic projects like drone delivery, expanded internationally to competitive countries like India and China, added Academy Award-nominated original content, and experimental shopping centers.
Amazon boss Jeff Bezos focused on the company's loyalty program, Prime, noting that "tens of millions of new paid members joined the program in just this past year." Bezos has been bundling more services into Prime membership so that customers who once just counted on Amazon for books, clothes, and electronics are now able to get household goods, groceries, and digital content.
"Prime members can now choose from over 50 million items with free two-day shipping — up 73 percent since 2015," Bezos said in a statement. "Prime Video is now available in more than 200 countries and territories. Prime Now added 18 new cities, which means millions of more members now get one and two-hour delivery."
Surging popularity of the Echo personal assistant not only provides an additional revenue stream for Amazon but also gives consumers an easier way to order Amazon products.The company's AI platform, Alexa, drove the top-selling products on Amazon during the holidays, the company said.
While the company has started to face legal pressure for allegedly enabling the widespread sale of counterfeits on the platform, the threat has yet to hurt Amazon's financials. In 2016, there were over 100,000 sellers with sales of more than $100,000 selling on Amazon, the company said.
And now that AWS has turned into a huge business in its own right, Amazon is generating actual profit that it can use for further investments.
The cloud-computing unit provides a much more profitable business for Amazon. AWS has an operating margin of 31.3 percent of all AWS net sales, while the North American retail business has an operating margin of 5 percent of net sales.
"I think we'll get better margin improvement in the second half of the year," Aaron Kessler, senior internet analyst at Raymond James, said on "Closing Bell."