With Healthcare Leading the way this Week, here is a look at the Top 3 Stocks in the Sector (12-Year Charts)
Investopedia — Many healthcare stocks had rallies that fizzled out shortly after the election, but we have found three that held onto gains and look like they are poised to be winners for 2017. We chose these stocks based on whether they had products that either is in high demand or could be in high demand when they are approved by the FDA.
It remains to be seen what the regulatory environment will be for healthcare companies, but there are some clear winners that started 2017 with a bang and could continue that trend. All figures are current as of May 26, 2017.
Celgene Corporation ($CELG)
Celgene has carved out space in the treatment of cancer. It has products on the market currently that are in demand for fighting various cancers and inflammatory diseases. The company has a worldwide market.
With forecasts suggesting that spending on cancer treatments will reach $150 billion by the year 2020, Celgene is likely to be one of the leaders in cancer care. Sales of its drugs are increasing dramatically.
The stock chart shows that Celgene had a high-volume breakout last November, and formed a base. The stock has turned downward recently but seems to be at a support level.
Avg. Volume: 3,537,007
Market Cap: 91.18B
PE Ratio (TTM): 43.85
EPS (TTM): 2.66
Dividend & Yield: N/A
1y Target Est: 141.71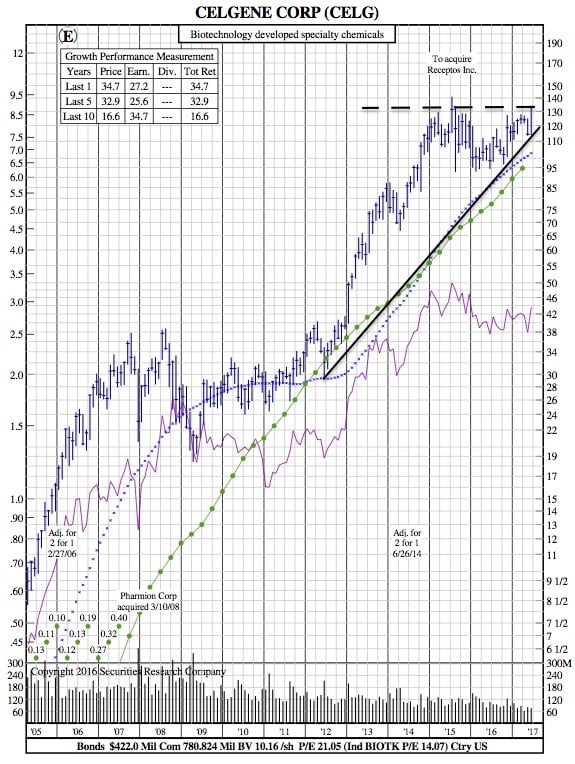 UnitedHealth Group Incorporated ($UNH)
UNH is one of the more impressive players in the healthcare field. It offers healthcare plans to consumers and employers, and also has plans for military personnel. It offers Medicaid plans, children's plans and plans for the elderly. UnitedHealth has an extensive network of physicians and hospitals that use its plans. UNH also markets software and information technology.
The stock made a dramatic upward move last October and has climbed from there.
Avg. Volume: 3,353,200
Market Cap: 171.05B
PE Ratio (TTM) 22.72
EPS (TTM): 7.81
Dividend & Yield: 2.50 (1.43%)
1y Target Est: 189.33
Stryker markets medical equipment. This focus keeps it out of the debate about how much government should dictate drug prices. The company has provided 10 uninterrupted years of revenue growth.
Stryker has three healthcare areas it markets to orthopedics, surgical equipment and supplies, and brain and spine surgery based on advanced technology.
In mid-November 2016, the stock started an upward march that has not been broken. The only dramatic days have been up days on large volume. This indicates that investors have a growing appetite for the stock.
SYK's 50-day moving average is well above its 200-day moving average and seems to be widening the gap. This is a bullish indicator.
Avg. Volume: 1,091,831
Market Cap: 52.802B
PE Ratio (TTM) 31.75
EPS (TTM): 4.45
Dividend & Yield: 1.70 (1.21%)
1y Target Est: 143.14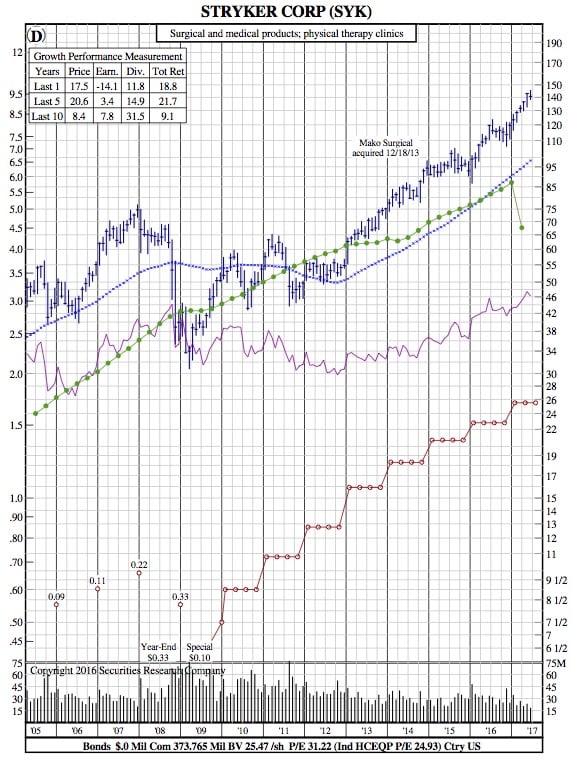 The Bottom Line
The healthcare industry is an iffy play under the best of circumstances. To be sure, much of the action on these three stocks is based on the belief that President Trump will be good for the sector. It is important that the high hopes give way eventually to hard reality. Watch for increased earnings and higher revenues. If healthcare overcomes its 2016 doldrums, these three stocks could do very well in 2017.