Elon Musk's latest announcement. Is Tesla Primed for a Breakout?
Yesterday Tesla ($TSLA) announced that new versions of their Model S sedan and Model X crossover will both accelerate faster and have a longer battery range.
The Model S P100D with Ludicrous mode is the fastest production car in the world, in terms of acceleration (In Tesla's opinion). The Model S has a 100 kilowatt hour battery, with a 315 mile EPA range.
The Model X P100D (also with Ludicrous mode) is designed to go from 0 to 60 mph in 2.9 seconds and is capable of 289 miles on a single charge.
The Model S P100D will start at $134,500 and the Model X 100D will start at $135,500.
As for to ability to upgrade, the P90D Ludicrous owners of both the S and X will be able to do so for $20,000. Ludicrous mode originally debuted as a $7,500 hardware upgrade to the P85D, that boosted the current from the battery and delivered more power to the motor. (CNBC)
"I think this is going to send a great message to the public that sustainable transport is the future," CEO Elon Musk said.
With yesterday's announcement, it begs the question: Is Tesla primed for a breakout?
When we look at the SRC 21-Month chart, it appears this may very well be the catalyst to propel $TSLA to the next level.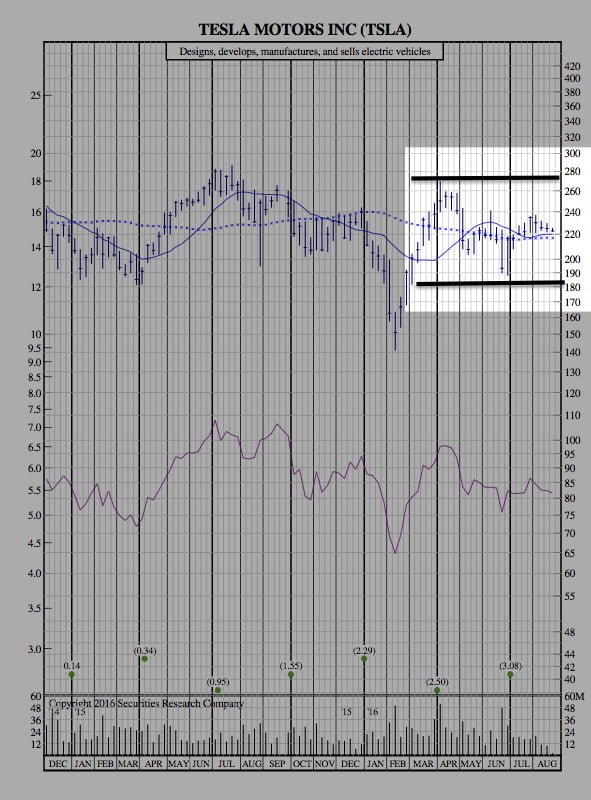 As you can see, Tesla's price has been relatively stable (esp. when looking at the SMA) for the past 5 months and feels ready to break one way or the other. That being said, when we look at the delivery history/forecast below, it starts to feel as if Tesla is ready to stretch its legs and run.