Panera Bread 12-Year Chart and Outlook for 2017
CNBC — Panera Bread (PNRA) is finally seeing results from its "Panera 2.0" initiative, which was launched a little less than three years ago to modernize its locations.
Shares of the company recently jumped more than 8 percent to an all-time high of $233.48 after Panera topped analysts' earnings expectations on Tuesday and provided an optimistic outlook for 2017.
The company reported fourth-quarter earnings of $2.05 per share on $727.1 million in revenue. Wall Street had anticipated that the cafe chain would earn $2 per share on $727.7 million in revenue, according to Thomson Reuters.
Full-year 2016 adjusted earnings per share were $6.74, but Panera expects adjusted earnings to rise to between $7.45 and $7.70 a share in 2017.
PNRA 12-Year Chart: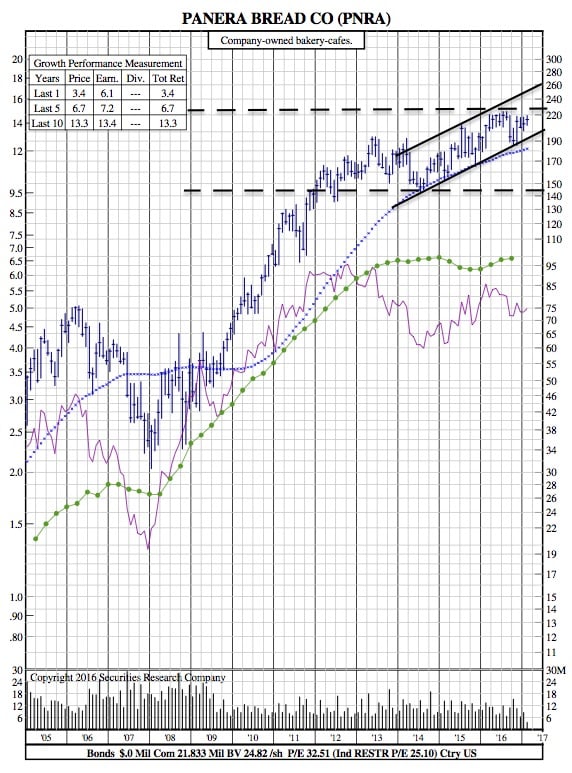 "With peak investments and significant scale behind us, we are now focused on completing the rollout of our initiatives and reaping the benefits," Ron Shaich, CEO of Panera, said in a statement Tuesday. "Because of the strength of our initiatives, we are confident our efforts will translate into market share gains and sustainable double-digit earnings growth."
Panera's efforts modernized its order and pay processes with fast-lane kiosks and mobile order to speed customers through the checkout, and also improved the way it trained its staff.
Shaich noted on a conference call Wednesday that the company will continue innovating its menu items, digital capabilities, and delivery options.
"We believe the investment Panera is making in technology enhancement is leading to an improvement in same-store sales as evidenced by the increasing gap relative to the industry and between company-owned and franchise comps," Peter Saleh, an analyst with BTIG, wrote in a research note Wednesday. "We continue to expect that the significant investment behind Panera 2.0 and delivery will now start to drive same-store sales and earnings which should continue to improve through 2017."
Same-store sales for the quarter were lower-than-expected across the board, with company-owned stores seeing a growth of 3 percent and franchised stores' growth down 1.4 percent. System-wide same-store sales grew about 0.7 percent, according to the company.
Analysts had expected company-owned stores to grow 3.5 percent, franchised stores to grow 0.7 percent and system-wide sales to be up 2.1 percent, according to Street Account.
The company said its same-store sales forecast calls for company-owned stores in 2017 to be between 3.5 percent and 4.5 percent.
Panera is rapidly expanding its digital presence and its delivery capabilities, hoping that the combination will help to drive sales. Currently, digital accounts for 24 percent of sales in its company-owned cafes, the company reported.
The company claims that this is the highest in the industry, save for the big three pizza chains.
In addition, Panera has rolled out delivery to 15 percent of its system, including 20 percent of its company-owned locations. By the end of 2017, it hopes to expand delivery to 35 percent to 40 percent of system-wide locations.
The company said investors can expect to see sales in the first and second quarter of 2017 to be moderately sluggish because of the delivery expansion. It costs $25,000 per cafe to add delivery capabilities, the majority of which goes toward hiring and training labor.
"When a café converts to delivery, we see a comp lift almost immediately, but it takes six to nine months to get to break even and start generating incremental profit," Shaich said.