Is there any Hope Left for Abercrombie & Fitch after Acquisition Deal Falls Through? (12-Year Chart)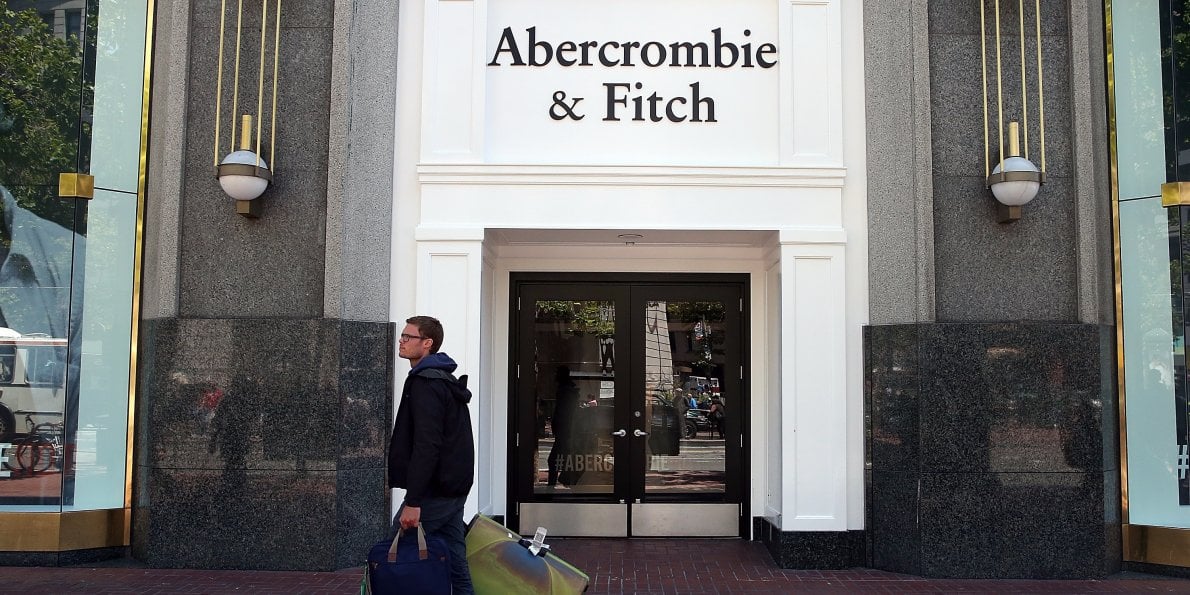 Yahoo Finance — No deal, no surprise.
That's what Jefferies analyst Randal Konik wrote in a note to clients after hearing that Abercrombie & Fitch (NYSE: ANF) has at last ended talks over a potential sale. The retailer said in May that it was holding conversations with several bidders — which were rumored to include American Eagle (NYSE: AEO) and Express (NYSE: EXPR) — regarding a potential sale.
But news that these conversations were off the table sent shares of teen apparel company Abercrombie tumbling more than 21 percent Monday, dragging other rival retail stocks down with it.
Private equity firm Sycamore Partners reportedly came closest to acquiring Abercrombie, but it could not meet the company's valuation expectations, people familiar with the matter told Reuters Monday.
"The general state of apparel retail remains challenged and its future uncertain, likely contributing to a limited number of financial sponsors in the process with serious interest," Konik said about the announced termination of talks.
"While there are natural strategic partners in the teen apparel retail space, we believe that any interest … eventually dissipated when realizing merger benefits like the elimination of overhead costs would likely be offset by time and resources needed to right the ship at [Abercrombie]."
Meantime, on Monday, shares of Gap (NYSE: GPS), American Eagle and Express all fell more than 4 percent at one point. Other apparel retailers Francesca's (NASDAQ: FRAN), Guess? (NYSE: GES), Cato (NYSE: CATO), Buckle (NYSE: BKE) and Children's Place (NASDAQ: PLCE) also saw their stocks falling; the S&P 500 Retail ETF (NYSE Arca: XRT)lost more than 2 percent.
The valuation was "probably tough" for the traditionally brick-and-mortar retailer Abercrombie given the declining mall space, Susan Anderson, a senior research analyst for FBR Capital Markets, told CNBC.
The industry for selling to teens will "continue to be one of the toughest spaces given all the competition," Anderson added.
Aeropostale, Wet Seal and BCBG Max Azria are just a few names in the space that have filed for bankruptcy over the past two years.
More players, including big-box retailer Target (NYSE: TGT) and even Amazon (NASDAQ: AMZN), want a piece of the young-adult apparel market today. But they're going after it in a different manner than Abercrombie, Aeropostale and American Eagle, who had all found success using their own distinct brand labels. Those are quickly becoming a thing of the past.
Amazon, Inditex — which owns Zara — and H&M have done the best job of providing teens with the experience and apparel they desire, Brittain Ladd, a strategy, and supply chain consultant, told CNBC.
"Abercrombie & Fitch failed to adjust to the fast fashion trend and, frankly, their brand feels and looks dated," Ladd said.
Products and aesthetics aside, it's important for retailers to consider what their stores have to offer shoppers today, with more to choose from.
"[In] the broader teen retail space, we maintain a broadly negative view as mall traffic remains a significant headwind, supply continues to outstrip demand, the backdrop is persistently promotional, and consumers gravitate toward experiences rather than things including apparel," Tiffany Kanaga, Deutsche Bank's apparel retail analyst, said.
Kanaga said she saw a "low likelihood" that any deal would be executed with Abercrombie because there would be many "hurdles" to turn the brand around in a "turbulent teen space."
Abercrombie said in a statement Monday that the company will now shift more focus toward its beach-themed Hollister brand. The teen retailer added that it will "continue to refine and implement strategies to position the Abercrombie brand for revitalized performance."
With Monday's losses, the S&P 500 Retail ETF has fallen more than 10 percent over the past 12 months, compared to the S&P 500's 14 percent gains.
Shares of Abercrombie, meanwhile, have tanked nearly 50 percent over the same period.
$ANF 12-Year Chart: