In the Last Year, these Two Stocks Have a Price Growth Rate of 20% and a Dividend Yield of 5% (21-Month Charts)
The two following stocks have posted a price growth rate of more than 20% over the past year, as well as a dividend yield of +5%. Depending on your risk tolerance, these two equities may be the perfect combo of growth and income to be added to your portfolio as we head towards the latter half of 2017.
Las Vegas Sands Corporation:
Investor's Business Daily — Shares of Las Vegas Sands (LVS) are rising closer to buy territory after Barclays upgraded the gaming stock to overweight from equal weight, citing the turnaround of Macau's gaming industry.
Several factors have given casino stocks a lift lately, including better-than-expected earnings results and a string of gambling revenue gains in Macau, although the Macau government's plans to track ATM withdrawals — a bid to quash money laundering and reduce cash flow out of China — recently weighed on the likes of Las Vegas Sands, Wynn Resorts and MGM Resorts International (MGM).
LVS 21-Month Chart: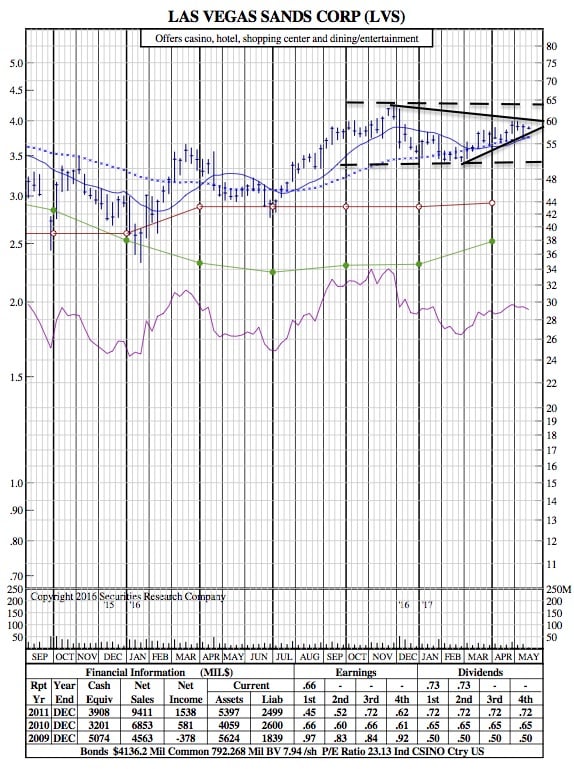 Seagate Technology PLC:
AccessWire — For the three months ended March 31, 2017, Seagate reported revenue of $2.67 billion compared to revenue of $2.60 billion for Q3 FY16. The Company's revenue numbers fell short of analysts' consensus of $2.71 billion.
For Q3 FY17, Seagate's gross margin was 30.5%, while on a non-GAAP basis, which excludes the net impact of certain items, the Company reported a gross margin of 31.4% for the reported quarter, up 870 basis points on a y-o-y basis.
During Q3 FY17, Seagate's HDD exabyte shipments were 65.5 exabytes, up approximately 18% on a y-o-y basis. The Company's HDD enterprise revenues were up 3% y-o-y, reflecting exabyte growth of 20% y-o-y and representing 36% of its total consolidated revenue. Seagate's Cloud Systems and Silicon Group demonstrated 19% y-o-y growth in Q3 FY17 with particular strength in its Flash-based solutions.
Seagate's average capacity per drive across the HDD portfolio was approximately 1.8 terabytes per drive in Q3 FY17, up 27% compared to the year-ago same period. The average selling price of $67 was sequentially flat for the reported quarter and up 10% on a y-o-y basis.
Seagate posted Q3 FY17 net income of $194 million, after reporting a loss of $21 million in Q3 FY16. On a per-share basis, the Dublin-based Company earned $0.65 compared to loss of $0.07 in the year-ago comparable period. Seagate's earnings, adjusted for non-recurring costs and restructuring costs, came in at $1.10 per share. The Company's earnings result surpassed Wall Street's expectations of $1.06 per share.
STX 21-Month Chart: