Ford's 25-Year Chart Amid Recent Leadership Shakeup
WSJ — Wary of Silicon Valley's push into the car business, Ford Motor Co. F 2.12% Chief Executive Mark Fields hired industry outsider Jim Hackett to help counter the threat in early 2016. Now Mr. Hackett is taking over the corner office.
Ford named Mr. Hackett, a former head of Steelcase Inc. who has been leading Ford's "Smart Mobility" innovation unit, as its new CEO Monday morning. The shuffle ends Mr. Fields's three-year tenure at the helm of the Dearborn, Mich., automaker and ends a 28-year career at the company.
Ford Chairman Bill Ford Jr. said Monday the car company his great-grandfather started in 1903 needs a fresh set of eyes. "We need speed [in] decision making," Mr. Ford said in an interview. He said Mr. Hackett needs to take "hard actions" to address underperforming parts of Ford and "really invest in the performing parts of the business."
Mr. Ford, long a supporter of Mr. Fields, didn't directly comment on his performance but acknowledged the company needed to improve its communication with Wall Street and other constituents. Ford's share price is down nearly 40% from when Mr. Fields succeeded Alan Mulally in 2014.
Mr. Fields also was seen as having positioned the company for criticism last year by then presidential candidate Donald Trump when he announced a plan to move production of the Ford Focus from Michigan to Mexico, according to a person familiar with the board's thinking. At the time, Mr. Trump was slamming American companies that made products in Mexico then sold them in the U.S.
Mr. Fields failed to make it clear that the automaker had specific products in mind to replace the Focus and save jobs, the person said.
Mr. Ford on Monday said that part of the job for Ford's new CEO "will be to teach and groom the next generation." Mr. Ford, who has served as Ford's chief executive, said the automaker faces challenges as the industry pivots from conventional cars and trucks to new forms of manufacturing, including parts made with 3-D printers, and new types of transportation, including autonomous vehicles.
New Ford CEO Jim Hackett talked to The Wall Street Journal about his first car, where he gets his design inspiration and whether he'd rather talk architecture with Frank Lloyd Wright or go golfing with Tom Brady. Photo: Jeff Bush/The Wall Street Journal (Originally published Nov. 29, 2016)
The automaker made several other changes at the loftiest level of its executive ranks. Jim Farley, recruited by Ford from Toyota Motor Corp. and credited with turning around European operations, will be given a newly prominent role as executive vice president and president, global markets. Mr. Farley, 54, will work directly under the 62-year-old Mr. Hackett as a potential successor, according to multiple people briefed on Ford's plans.
It also tapped Joe Hinrichs, 50, as executive vice president and president of global operations, overseeing global product development and manufacturing. Since late 2012, Mr. Hinrichs had been Ford's executive vice president and president for the Americas.
The board began discussing the move to bring in a new CEO earlier in 2017, a year during which the company stock price slipped behind that of Tesla Inc., the electric-vehicle startup. The Tesla development, along with tension amid the management ranks, shook directors' confidence in the strategy and direction, according to people familiar with the deliberations.
Shares of the company rose 1.7% to $11.05 in afternoon trading.
$F 25-Year Chart: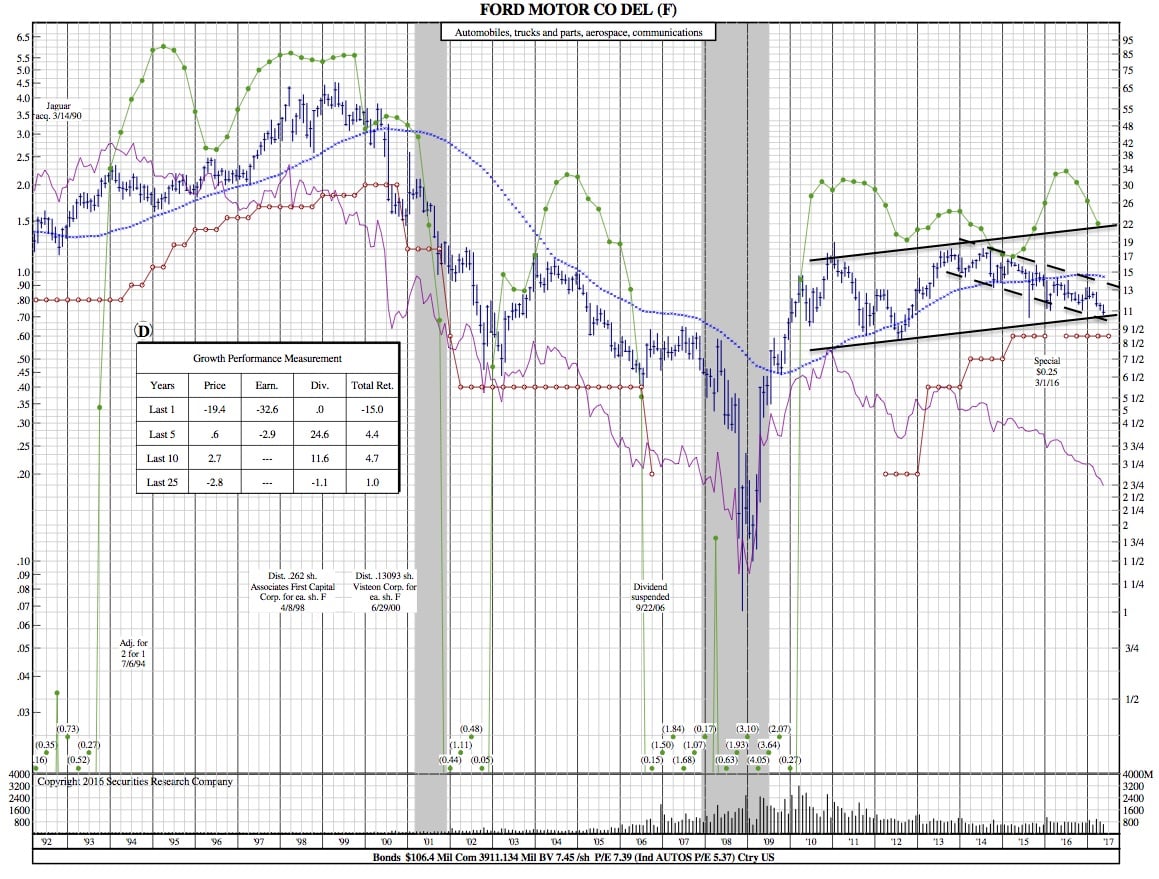 Mr. Hackett is known for clear communication and taking bold action. He made waves in the Detroit area in 2014 when, as interim athletic director for the University of Michigan, he recruited NFL coach Jim Harbaugh to lead Michigan's vaunted football program. He most recently oversaw the formation of Ford Smart Mobility, a unit responsible for experimenting with car-sharing programs, self-driving ventures and other programs aimed to help the 114-year-old automaker better compete with Uber Technologies Inc., Alphabet Inc. and other tech giants looking to edge in on the auto industry.
The Wall Street Journal reported the board's deliberations on a management shake-up Sunday evening. Mr. Fields couldn't immediately be reached.
Mr. Hackett is a one-time Ford board member known for an easy and straightforward style reminiscent of Alan Mulally, a longtime Boeing Co. executive recruited to run Ford in 2006. Mr. Mulally addressed the turmoil that permeated Ford's management ranks at the time, sold off business units and shored up the balance sheet.
Mr. Mulally left Ford in 2014 as the company was on a winning streak. He benefited from a revamped product line that was built while avoiding the bankruptcies that hit Detroit rivals General Motors Co. and Fiat Chrysler Automobiles NV's Chrysler unit in 2009.
Mr. Fields, a turnaround artist known to be a hard-charging leader and for overseeing revivals in Ford's operations on several continents and within various business units, was a top lieutenant under Mr. Mulally and Bill Ford's pick as the successor.
The company's board and Mr. Ford, however, began discussing changes to the leadership team recently as the share price hovered around $11 a share—nearly 40% lower than when Mr. Fields took over. When the market capitalizations of Ford and GM were individually surpassed by Tesla Inc.'s earlier in this year, it underscored how far behind Detroit is perceived to be in the race to develop new technology.
Those programs include electric vehicles, ride-hailing services and programs aimed at putting vehicles on the road entirely capable of driving without human intervention. Mr. Fields has been planning to launch driverless cars early next decade, but it has been far behind Tesla and GM on electric-car development. Executives have struggled to explain how Ford will make money on services other than developing, producing and selling automobiles.
Ford has posted a series of solid profits under Mr. Fields, aided by renewed demand for pickups and sport utilities that deliver higher margins and do well in an era of cheaper gasoline. Mr. Farley, meanwhile, helped deliver more than $1 billion in profit in Europe last year, with the favorable result coming as GM exited that region due to persistent losses and a lack of confidence in its German Opel unit.
Mr. Fields, however, has struggled with Wall Street. Analysts and investors have routinely questioned the company's ability to weather the next industry downturn. Criticism has increased as U.S. auto sales plateau and Ford's market share slides.
Over 30 years at Steelcase, Mr. Hackett reshaped the company's workplace offerings, dispensing with cubicles and embracing open offices.
In an interview with The Journal last year, Mr. Hackett said he wasn't interested in being a chief executive again but was interested in helping Mr. Fields think through tough challenges.
During the interview, Mr. Hackett explained that traditional car-building consumes substantial capital and returns relatively slim margins. In so-called mobility services, he said Ford could eventually earn far more attractive margins if it hired the right software engineers and designers.
The automaker has been projecting 20% margins in the mobility services business but hasn't outlined when that would be achieved. Ford's North American unit is the most profitable it currently runs. It returns about 10% operating margins under the best conditions.
Ford's Smart Mobility unit has made some initial moves under Mr. Hackett's direction, acquiring van-shuttle service Chariot and joining with a bike-sharing firm.