Chipotle Mitigates Recent Norovirus Selloff with a Strong Earnings Report (12-Year Chart)
CNBC — Chipotle Mexican Grill (CMG) said it more than doubled its second-quarter earnings from a year ago, aided by lower costs and an improved profit margin.
Shares of the company rose 3.5 percent after the closing bell on Tuesday.
The stock gain was a welcome change after shares fell nearly 12 percent since last Tuesday when the news of a norovirus outbreak at a restaurant in Sterling, Virginia first broke. A company investigation confirmed that the restaurant's leadership was not following safety protocols and a staff member was working while sick.
While the company was able to outpace analysts' expectations, its revenue fell short.
EPS: $2.32 vs. $2.18 expected, according to Thomson Reuters
Revenue: $1.17 billion vs. $1.19 billion expected, according to Thomson Reuters
U.S. same-store sales: 8.1 percent vs. 9.7 percent expected, according to StreetAccount
Chipotle posted net income of $66.71 million, or $2.32 per share, on $1.17 billion in revenue. The burrito chain was expected to report earnings of $2.18 per share on $1.19 billion in revenue, according to Thomson Reuters estimates.
A year ago, Chipotle earned $25.6 million, or 87 cents a share, on revenue of $998.4 million.
The company said that sales were boosted by improved consumer traffic, reduced promotional activity and an increase in average check.
Same-store sales rose 8.1 percent during the quarter, disappointing Wall Street, which had anticipated that company would report same-store sales growth of 9.7 percent, according to StreetAccount.
"Chipotle's earnings beat today show that the management team is tackling the tough cost elements of labor and food cost," Trevor Boomstra, a principal in the consumer industries and retail practice at A.T. Kearney, told CNBC via email. "It's exceptional, given the commodity spike on avocados that are a key component of their food cost."
"But the larger story is the soft growth," he said. "They missed top-line sales and comps of 8 percent from a soft 2016 base. They continue to recover but at a relatively slow pace."
To lure in new and lapsed customers, Chipotle has been testing several new menu items in its test kitchen in New York City. One of those items, queso, will be sold in two additional markets in August, Steve Ells, CEO of Chipotle, said during the company's earnings conference call.
"We know many of our lapsed customers are waiting for a reason to return to Chipotle and new menu items are an ideal way to spark the necessary interest," Mark Crumpacker, chief marketing, and development officer said during the call.
Chipotle also is testing drive-thru service at a location in Ohio.
Buzz about new products would be a welcome change the string of bad news Chipotle has recently faced. The company's reputation suffered last week after reports surfaced that customers were sickened with norovirus at a restaurant in Sterling, Virginia, and a cell phone video that showed rodents falling from the ceiling of a Dallas-area location went viral.
Those headlines resurrected concerns about food safety at Chipotle restaurants that the company was working hard to turn around.
"We saw encouraging signs in our improved financial results during the first half of the year. Recent events, however, have shown that we still have a lot of opportunities to improve our operations and deliver the outstanding experience that our customers expect," Ells said in a statement Tuesday.
During the company's conference call, Ells went into more detail saying that the company has to do a "better job" and show that it takes food safety procedures "very, very seriously."
"We conducted a thorough investigation [of the incident in Sterling], and it revealed that our leadership there didn't strictly adhere to our company protocols," Ells said. "And we believe someone was working while sick."
Earlier Wednesday, CNBC reported that several Chipotle employees reported that restaurant managers at various locations had been lax in following guidelines put in place after a string of food-borne illnesses that began in 2015. In some cases, managers were requiring staff to work while sick, these employees told CNBC.
Chipotle reiterated its full-year 2017 outlook for same-store sales to grow in the high-single digits.
One thing Chipotle said it had put behind it was a forensic investigation into a credit card security breach at some of its restaurants earlier this year. That probe has been completed, the company said.
Based on this information, Chipotle said the incident began no earlier than March 24, and ended no later than April 18. The full list of affected restaurants is listed on the company's website.
$CMG 12-Year Chart: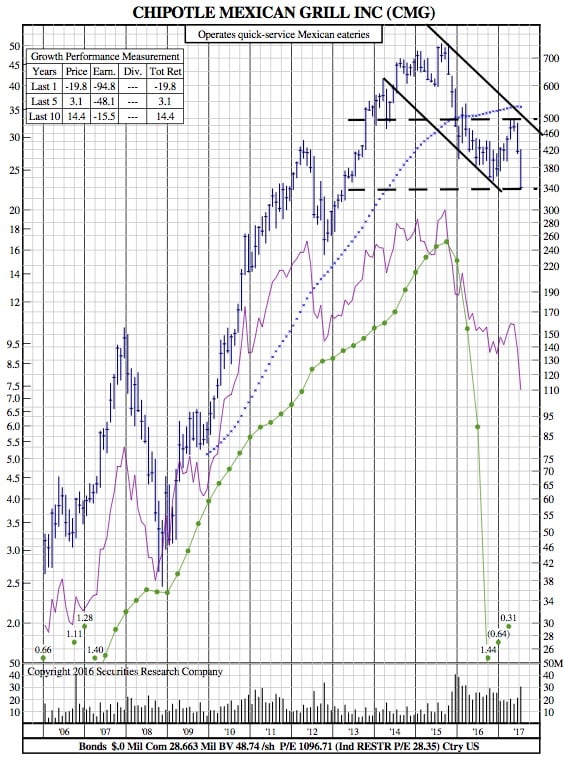 p