After NVIDIA's 17% Fall, is now the Time to Buy Back in? (12-Year Chart)
Barron's — Nvidia and Microsoft (MSFT) announced a new hyper-scale design for cloud-based artificial intelligence computing. The stock has experienced weakness, falling 17% from a high of $119, following concerns about Gaming revenue.
After growing significantly quarter-over-quarter the last three-quarters (at 14%, 59%, and 8% in the second, third, and fourth quarters, respectively), gaming revenue is expected to decline (by 16% quarter-over-quarter) in the first quarter of fiscal 2018. We believe the current correction is overblown as we view about 11% year-over-year growth on a $4.5 billion business line significant. Gaming catalysts include competitive gaming, virtual/augmented reality (VR/AR), more demanding blockbusters, and a positive upgrade cycle.
NVDA 12-Year Chart: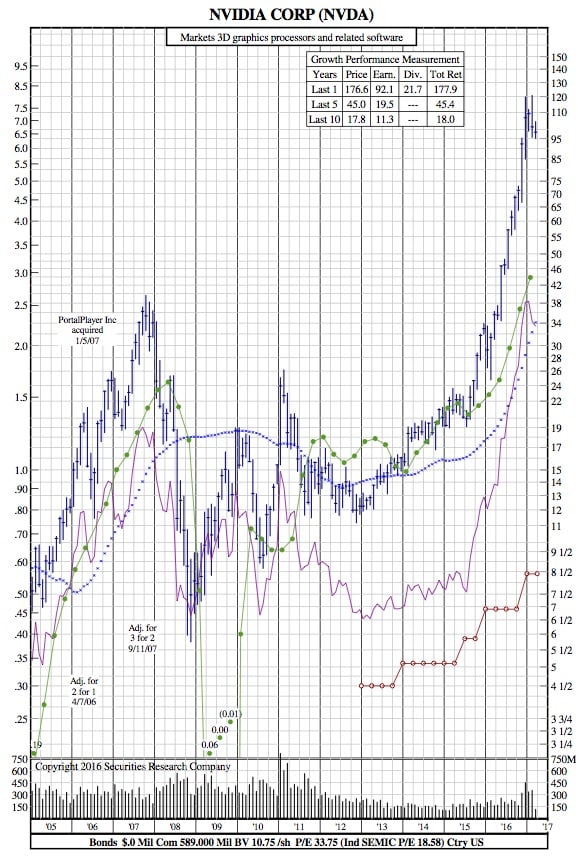 The open source HGX-1 GPU accelerator was designed alongside Microsoft's project Olympus for cloud-based artificial intelligence (AI) workloads and seeks to become an industry standard due to its unique design. The design allows cloud-service providers to offer customers numerous configurations, as the CPU can dynamically connect to any number of GPUs (ideal for start-ups using AI). The HGX-1 performs deep learning tasks at 100 times the speed of legacy CPU-based data centers and at a lower cost. (One-fifth the cost for training and one-tenth for inferencing) Jen-Hsun Huang, chief executive of Nvidia, stated "AI is a new computing model that requires a new architecture. The HGX-1 hyper-scale GPU accelerator will do for AI cloud computing what the ATX standard did to make PCs pervasive today. It will enable cloud-service providers to easily adopt Nvidia GPUs to meet surging demand for AI computing."
Nvidia announced the Jetson TX2 developer kit which will be able to provide "computing at the edge" to a wide range of products with varying power and efficiency requirements. The embedded system allows for localized parallel computing for image classification, speech recognition, navigation and other AI tasks without the need for cloud connectivity-lowering latency, bandwidth usage, and security threats. The embedded system is targeting critical applications including drones, smart robotics, image processing on automobiles and unmanned aerial vehicles (UAVs). The platform can offer either twice the performance of its predecessor or can run in a low power mode at half the power requirements. The TX2 will be housed in the same credit card sized form factor as the previous TX1. The system costs about $600 and will begin shipping on March 14.